Stage Expo Sales Manager
When members of the Conference Committee and the Commissioners gathered in Kansas City, Missouri July 31 to August 2, there was a full agenda of meetings and facility tours. Planning for USITT's 50th anniversary celebration as well as for future conferences and projects is in high gear. Members met and stayed at the Crowne Plaza Hotel, which is one of the conference hotels in addition to the Marriott, Aladdin Holiday Inn, and Hilton President hotels.
During lunch breaks and in the evening, committee members found it convenient to explore the numerous options of the Power & Light District just a few blocks' walk from the hotels. You can eat and shop in Cosentino's Market; belly up to the bar at the Flying Saucer, McFadden's, or Raglan Road; bowl at Lucky Strike Lanes & Lounge; catch a movie at the AMC Theatres; or play "Beat the Clock" at the College Basketball Experience at the Sprint Center.
A tour of the Municipal Auditorium inspired several members of the group to return to the Arena to see the Kansas City Roller Warriors in action featuring bouts between the Black-Eye Susans, Dreadnought Dorothys, Knockouts, and Victory Vixens, all battling it out in the Rink of Fire Championship. The stunning art deco auditorium, site of the NCAA Final Four competition in earlier days, provided a impressive visual backdrop for the battling skaters. Those who attended have a whole new set of signals for "stop right now."
Some group members attended a Kansas City Actors Theatre performance of David Mamet's Glengarry Glen Ross at H&R Block City Stage in Union Station. Others dined at the nearby Lidia's, which feels like an Italian farmhouse, built in an historic railroad house. Owned by chef Lidia Bastianich of PBS fame, Lidia's menu includes a daily pasta special, featuring a trio of fresh handmade pasta dishes.
Having sampled the BBQ at Arthur Bryant's, Gates, and Fiorella Jack Stack's on previous visits to KC, this time we ventured to the Kansas side for a taste of Oklahoma Joe's. Listed by TV chef Anthony Bourdain as one of the "13 Places to Eat Before You Die," Oklahoma Joe's is located a 10 to 15 minute cab ride from downtown KCMO in a gas station -- not an old, converted gas station, but in one with functioning gas pumps, and a small convenience store. The bonus is the attached BBQ restaurant, whose popularity was confirmed by the long line, even as closing time neared. Tony might be right that OK Joe's has the best BBQ in KC. Come to the conference next March and find out for yourself.
Plan now to be in Kansas City March 31 to April 3 for the 50th Annual USITT Conference & Stage Expo. For information about exhibiting at Stage Expo 2010, contact hpwillard@aol.com.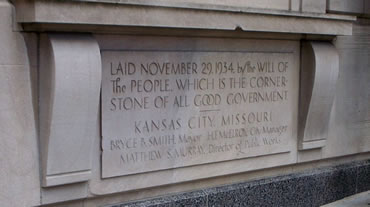 The cornerstone of the Municipal Auditorium, part of the Kansas City Convention & Entertainment Facilities.
To Top