Stage Expo 2010
Kansas City Here We Come
Stage Expo 2009 in Cincinnati was a great success, with 180 exhibitors in 28,100 square feet of exhibit space, second only to Stage Expo 2008 in Houston. Preliminary attendance figures announced at the Conference included 4,363 attendees, up nine percent from 2008.
Attendees awaiting the grand opening of Stage Expo were treated to a spirited performance by Jake Speed & The Freddies, a Cincinnati band playing a mix of traditional and original American folk and bluegrass music. VP Conferences Joe Aldridge cut the USITT tape, and the crowd streamed into the exhibit halls to gather technical information and collect swag. Exhibitors were extremely happy with the traffic at Stage Expo, in part due to the more than 1,200 people who visited Stage Expo on a VIP Pass.
Exhibitors were invited to reserve Kansas City 2010 booth space during the priority space selection held in Cincinnati on the last day of Stage Expo 2009. A total of 85 booth exhibitors booked 22,000 square feet of space during the priority space selection. Over 70 percent of the available booth space has been reserved for next year's show, so Stage Expo 2010 is already well on its way to filling three large exhibit halls.
The 50th Annual USITT Conference & Stage Expo will be held in the Kansas City Convention Center, located in downtown Kansas City, Missouri. Stage Expo 2010 will be in the Convention Center's Bartle Halls A, B, & C, with meeting rooms located below the exhibit halls. Four escalators lead from the registration area and the meeting rooms directly into the exhibit halls.
Booth space selection will continue until all available booth spaces are sold. Priority space selection for table spaces will be conducted later in the year. Anyone who would like to exhibit at Stage Expo 2010 in Kansas City should contact hpwillard@aol.com for more information.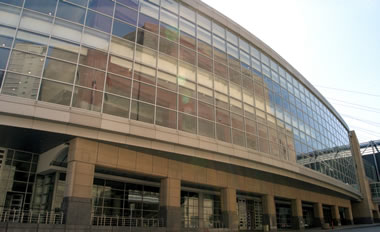 The Kansas City Convention Center will host USITT's 2010 Annual Conference & Stage Expo, and a celebration of the organization's 50 years of innovation and networking.
Photo/Courtesy VisitKC.com
To Top