Distinguished Achievement
Seven individuals received Distinguished Achievement Awards as part of the 2009 Annual Conference in Cincinnati.
Lenna Kaleva was honored for Distinguished Achievement in Costume Design; Jules Fisher was honored for Distinguished Achievement in Lighting Design; Jack Mann was honored for Distinguished Achievement in Sound; Franco Colavecchia was honored for Distinguished Achievement in Scenic Design; Barton Myers was honored for Distinguished Achievement in Architecture; Ben Sammler was honored for Distinguished Achievement in Technical Production, and Robert Rody was honored for Distinguished Achievement in Management.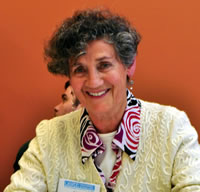 Lenna Kaleva
Lenna Kaleva taught more than a generation of makeup and wig design students at Cincinnati's College Conservatory of Music. A Russian émigré, Ms. Kaleva was instrumental in creating one of the premiere educational makeup and wig design programs in the United States. Her work has been seen not only in Cincinnati at CCM and Edgecliff College but also at Cincinnati Opera and numerous theatre and opera companies around the country. Her legacy continues in the work of her students who are employed in the film industry, regional theatres, opera companies, and academic programs all over the United States.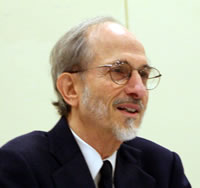 Jules Fisher
Jules Fisher calls himself a lighting designer who creates illusions. He has created magical lighting for Broadway shows, film, concerts, and television for over 50 years and along the way has received eight Tony Awards (and 12 more nominations), seven Drama Desk Awards, and an Emmy Award nomination for lighting the celebration of President Clinton's inaugural in 1993. He was inducted into the Theatre Hall of Fame in 2006, received the USITT Award in 1995, the Illuminating Engineering Society's Lighting Design Award in 1978 (for Dancin'), and the Henry Hewes Design Award in 1996 (for Bring in 'Da Noise Bring in 'Da Funk). Mr. Fisher has shared his "design imperatives" with scores of young professionals through the Live Design Broadway Master Classes. His prolific achievements are the subject of The Designs of Jules Fisher, the fifth in USITT's Monograph Series honoring living designers.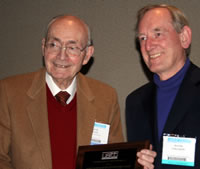 Jack Mann with David Collison
Jack Mann is considered one of the true pioneers of theatre sound design. Originally from Michigan, he began his life in the theatre in 1941 as an electrician when he was just 18. After serving in World War II, he returned to Michigan where he continued as a theatre electrician for eight years before moving to New York in 1959. He became involved in theatre sound and soon gained a reputation for his creative design and innovative techniques, long before the term Sound Designer came into being. During his 27 years on Broadway, Mr. Mann had the privilege of working with renowned artists such as George Abbott, Leonard Bernstein, Harold Prince, and Stephen Sondheim. He is a father of two, grandfather of four, and great grandfather of four. He retired in 1986 and now lives in New Jersey with Jean, his wife of 66 years. The award was presented by David Collison, who came from England for the presentation.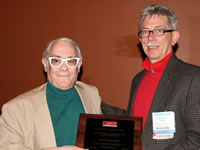 Franco Colavecchia with Howard Jones
Franco Colavecchia has designed internationally for opera and theatre, working with Luciano Pavarotti, Gian Carlo Menotti, Frank Corsaro, and Ian Strasfogel among others such as Tommy Tune. Mr. Colavecchia has designed productions for locations as varied as the New York City Opera, Chicago Lyric, Houston Opera, Wolf Trap Opera, Washington Opera, New Opera Theater at B.A.M., Pittsburgh Opera, San Antonio Festival, The Music Opera Association/Dorothy Chandler Pavilion in Los Angeles, Den Norske Opera in Oslo, The Wexford Opera Festival in Eire, and Glimmerglass Opera. He designed the Italian tour and the Broadway version of La Boheme for Mr. Pavarotti. His work has been seen in numerous locations around the world and he has worked for The Oxford Playhouse, the Roundhouse, the Edinburgh Festival, and the York Festival in the United Kingdom. He was the assistant to Julian Beck of the Living Theatre on the London Production of The Brig. His designs have also been seen on PBS television for La Boheme for Pavorotti in Philadelphia, Faust for the Opera Company in Philadelphia, Carmen for New York City Opera (Live from Lincoln Center) and Treemonisha for Houston Opera. He has also worked on several documentary films. He has exhibited his paintings and drawings extensively through out the country. His designs have been included in the Prague Quadrennial three times, and some of his work is in the permanent collection at the Tobin Collection in San Antonio. He has taught and mentored numerous students at the University of North Carolina School of the Arts where he continues to paint and to design. He also has taught at DePaul University, Colgate University, SUNY Purchase, Carnegie Mellon, and Harvard University. He continues to be a guest lecturer in rendering all across the country.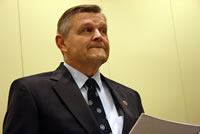 Ben Sammler
Ben Sammler has been at the Yale School of Drama for more than 25 years and currently holds an endowed chair position as the Henry McCormick Professor of Technical Design & Production. Mr. Sammler is known as a leading educator, a supportive mentor, a diligent editor, an award-winning author, a USITT Tech Expo founder, and a frequent presenter and leader of Professional Development Workshops at USITT and other conferences.
Mr. Sammler received his master's degree from Yale and in 1974 was promoted to Assistant Professor and remained as technical director at the school until 1980 when he changed jobs, taking on the position of Production Supervisor for both the School and the Yale Rep.
According to Dennis Dorn, who presented him with the award, "Ben's foresight and ambition has transformed the original TDL Program (Tech, Design & Lighting) into the current Technical Design & Production Program. The program has gone from a generalist focus in Technical Production to one that addresses the needs of present-day theatre technical designers and technical managers. Although admission to the School requires meeting very high standards, it can be truthfully said that at any one time nearly 25% of the nation's technical production graduate students are studying at the Drama School.
The Technical Briefs he oversees have been published in two anthologies with a third in the works. He is the co-author (with Alyce Holden) of Structural Design for the Stage, which won USITT's Golden Pen Award in 2000.
For USITT, Mr. Sammler served as a Technical Production Vice-Commissioner and Co-Commissioner for a number of years, and was instrumental in creating and nurturing Tech Expo, which in 2009 is celebrating its 12th anniversary.
In November 2006, the New England Theatre Conference (NETC) presented Ben with the Leonidas A. Nickole Theatre Educator Award -- the first time the NETC has so honored a theatrical design and production educator.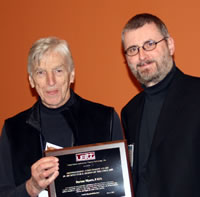 Barton Myers with John Prokos
Barton Myers received his Master of Architecture degree from the University of Pennsylvania. He first established his firm in Toronto and, in 1984, opened an office in Los Angeles that is now the firm's base.
Mr. Myers received the first Toronto Arts Award for Architecture in recognition of his contribution to that city, and in 1994, he received a Gold Medal from the Royal Architectural Institute of Canada (RAIC). In 2002, Barton received the Gold Medal from the Los Angeles chapter of the American Institute of Architects (AIA/LA). Mr. Myers has taught architecture and planning and has been a Visiting Professor at the Harvard Graduate School of Design and the University of Pennsylvania. He also served as Thomas Jefferson Professor at the University of Virginia. Since 1980, he has been a professor of architecture at the UCLA School of Art and Architecture and lectures extensively throughout North America and abroad.
He is a Fellow of the American Institute of Architects, Los Angeles Chapter; Past Fellow, Royal Architectural Institute of Canada; a Retired Board Member and Lifetime Patron of the Society of Architectural Historians, and a member of the President's Circle, United States Naval Academy.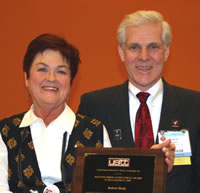 Carolyn Satter with Robert J. Rody
Robert J. Rody is Technical Director of Playhouse Square Foundation in Cleveland, Ohio. The foundation is a 501(c)(3) with $50 million in revenue which incubates, produces, and presents theatrical and musical entertainment and operates five theatres and three performance spaces. Playhouse Square Center is the second largest entertainment center in North America and in it the Foundation presents over 600 event-nights annually. Mr. Rody has been the Foundation's Technical Director and principal technical theatre specialist since 1973. Mr. Rody was active throughout all phases of the Foundation's redevelopment. He helped coordinate the opening of the restored Ohio Theatre in 1982 and the State Theatre in 1984. He personally supervised the construction of the $10 million State Theatre stagehouse, a nationally known 10-story facility that still defines the state of the art. He helped coordinate the opening of the Palace Theatre in 1988 and the Allen Theatre in 1998. He currently coordinates the needs of the center's six constituent groups which present ballet, opera, modern dance, and legitimate theatre. He provides technical direction for the Foundation's presentations which range from Broadway (seven productions per year) to jazz and pop. Mr. Rody received his master's degree from Bowling Green State University.
To Top