Chair, USITT Fellows

It was on one of those long elevator rides in Houston when we seemed to stop at every floor when a USITT student member asked, "What does that purple ribbon with the word Fellow mean?" I think many Fellows assume everyone knows the answer, but obviously this is not the case. As we approach another Annual Conference, I thought it would be appropriate to explain a little more about the men and women you'll see with purple ribbons and small lapel pins that identify them as Fellows.
First the numbers: there are currently 72 Fellows, and we have 33 Fellows "In Memoriam." USITT By-laws permit 2.5% of the membership (excluding Organizational, Contributing, and Sustaining members) as the maximum number of Fellows at any one time. In the 2009 year, we may elect up to five new Fellows depending on a vote by the current body.
To be considered for nomination and election as a Fellow, individuals must be current members of the Institute. Additionally, Fellows must exhibit a record of service to Regional Sections, Commissions, committees and/or conferences. Previous leadership activity and contributions to the ongoing regional and national levels of USITT is expected of a Fellow.
The final expectation of each Fellow is significant professional activity and accomplishment in the entertainment design and technology field. The men and women who are Fellows have professional careers as architects, designers, consultants, educators, managers, manufacturers, retailers, technicians and, most importantly, leaders. Many have worked in more than one sector of the entertainment industry.
After becoming a Fellow, many individuals continue to contribute their personal time, energy, and resources to critical Institute projects. Dick Durst and Larry Hill created the USITT@50 development campaign and many lead donors are Fellows. The history of USITT's first 50 years is being written by Rick Stephens. USITT's very successful international work is in the able hands of Leon Brauner and Sandy Bonds. Tim Kelly continues to develop the Grants & Fellowships program each year with expanded funding and creative fundraising.
More than a dozen current national officers, directors and committee chairs are Fellows. The Fellows Address, Forum and Student Mentoring sessions remain key elements of our ongoing commitment to support outstanding annual Conferences.
To conclude, I hope this summary has been helpful to members in answering the question "What is a Fellow?" We all look forward to seeing you in Cincinnati this March!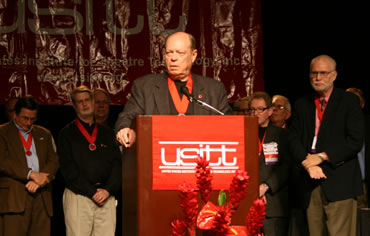 Van Phillips, center, prepares to introduce Rick Thomas as a new USITT Fellow during the 2008 Annual Conference. The honor is bestowed on a limited number of USITT members, voted by the current Fellows, and is kept secret until the induction ceremony is underway.
To Top

USITT's Fellows gather for a photograph before the start of their business meeting at the 2008 Annual Conference & Stage Expo in Houston, Texas. Fellows serve an important role in the Institute.
Photo/Tom Thatcher