Corey Presented with
USITT's Highest Honor
The USITT Award, the highest honor given by USITT, recognizes a lifetime contribution to the performing arts community, and it is my honor to present it to Irene Corey, a peerless theatrical designer, fine artist, and inventor, who astonished us with her creativity, and who history now shows to have established artistic trends that are the antecedent of design styles that strike us as startlingly original today.
Ms. Corey's long and highly inventive career in costume design has influenced theatrical designers sometimes directly -- as with designers of my era who were captivated by each new Corey creation such as:
| | |
| --- | --- |
| The astonishing image of animated stained glass windows in The Book of Job. | |
| | |
| --- | --- |
| | Actors as bas-relief statues who come to life in Romans by Saint Paul. |
| | |
| --- | --- |
| And the inventive and delightful animal costumes for Reynard the Fox and The Great-Cross Country Race. | |
We held our breath awaiting each new book she authored, knowing that she would selflessly instruct by way of her artistic explorations and clever solutions. She provided detailed instructions, included with the script, on how to do the animal make-up of Reynard the Fox (below right) and The Great Cross-Country Race. She put her design philosophy and techniques into words in her first book, The Mask of Reality and then in The Face is a Canvas, where we met Prospero (below left).
Those not directly enthralled by Irene Corey's magic have delighted in it indirectly -- through the work of successors who might be unaware that Irene Corey set the stage for such highly successful design achievements as Cats or Lion King.
Long before Simba and Mufasa came Reynard, so do not think me bold if I suggest that Corey's groundbreaking designs were the precursor to and the inspiration for the work of John Napier, Julie Taymor, and the like.
Irene Corey is the subject of numerous articles and a book. Her work has received regional, national, and international recognition. The Corey's Everyman Players, featuring Irene's designs, performed at the Brussels World's Fair, New York World's Fair, 900th Anniversary of Westminster Abbey, Netherlands's International Theater Festival, and the Biennale Festival of Venice.
In the 1983, together with her niece Suzanne Lockridge, she opened Irene Corey Design Associates (ICDA) costume studio in Dallas, Texas. Together they began their imaginative journey into the world of foam character costumes, three dimensional company logos, and walk-around body puppets.

Now, with a client roster ranging from national restaurant chains to feature film productions, ICDA has expanded to include a staff of highly qualified designers and artisans. Her achievements and those of her studio have brought delightful, artistic, and beautifully created costumes to the eyes and heart of popular culture. Her 1980s creation, Barney, the purple dinosaur, is the controversial centerpiece.
It is a great personal pleasure for me to present the USITT Award to Irene Corey, a woman whose artistry is unsurpassed and whose grace and graciousness are unequaled. Sadly, her health does not permit her to travel at this time. Accepting for her is her niece, business partner and best friend, Suzanne Lockridge.
United States Institute for Theatre Technology, Inc.
presents the
USITT Award 2007
to
Irene Corey
In recognition of highly acclaimed designs from The Book of Job to the enchanting Barney and Friends. Your magical costume designs brought to life stained glass windows, Byzantine bas relief, purple dinosaurs, and much more. Your unique and enthralling style captivates us, your books instruct us, and your legacy inspires us. We honor your extraordinary lifetime contributions to the performing arts community.
Board of Directors
Phoenix, Arizona
March 2007
To Top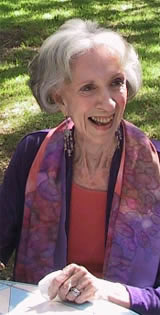 Irene Corey's imaginative skills and dramatic presentation of characters were recognized at the USITT Annual Conference & Stage Expo in Phoenix, Arizona in March.