The Institute as
A Good Neighbor
Nothing makes you more tolerant of a neighbor's noisy party than being there. -- Franklin P. Jones
USITT's Executive Committee, Conference Committee, and Commissioners met in August in Phoenix, Arizona, the site of the 2007 Annual Conference & Stage Expo. We enjoyed the comforts of the conference hotels, seeing the convention center that offers an exciting venue, and visiting with one another.
Phoenix, with its commanding setting, will provide a dramatic backdrop for our meetings. While summer weather in the desert is not inviting, during our stay in March we should enjoy beautiful weather; the average monthly high temperature is 75 degrees, average low is 49 degrees, and average precipitation is less than a tenth of an inch. It is doubtful that you will need an umbrella.
From several seemingly unrelated agenda items discussed at the August Executive Committee meetings there emerged a theme -- USITT's position as a neighbor in the greater performing arts community.
New National Office Space
In 1996 USITT's national headquarters moved from Manhattan to Syracuse, New York. Since then, 6443 Ridings Road has been the address recognized as our professional organization's home. During this time, USITT has grown. Our membership is larger; we have more staff members managing more activities from our national office. As a byproduct of our success, we have outgrown our office and must make plans to move. The office staff, along with several officers and others, will explore new sites.
Those undertaking this real estate shopping are charged with seeking a new office space with no fewer than 2,700 square feet. The new space should include a reception area, a conference room, staff office spaces, storage space, and an easily accessible loading facility. Regarding where in Syracuse the office should be located, the prospect of moving our USITT office to a neighborhood populated by other arts organizations is one of several ideas being pursued.
Liaison Appointments and Reappointments
Though not in the same neighborhood -- often not even in the same city or state -- USITT holds its sister organizations in the arts in high regard, and we are eager to foster and maintain active and mutually beneficial relationships. To insure a flow of information and communication, USITT appointees serve as liaison to other arts organizations. Thus we are positioned to cooperate and/or lend our voice in matters of common interest and concern. Toward that end, the following liaison appointments and reappointments were recently announced:
| | |
| --- | --- |
| ESTA Certification Council Representative | Joe Aldridge |
| Head of US OISTAT Centre | Leon Brauner |
| ATHE Representative | William J. Byrnes |
| ESTA Certification Council Representative | Dennis Dorn |
| ESTA TSC Standards Liaison | Rodney Kaiser |
| Conference Logistics Liaison to ESTA | Carl Lefko |
| KC/ACTF Representative | John Uthoff |
USITT's official liaisons welcome your questions or concerns regarding organizational interactions. You may visit each of these organizations through links provided on our web site.
Briefing on the ATHE Summit of Theatre-related Organizations
Demonstrating its concern for cooperation among theatre and performing arts organizations, the American Theatre in Higher Education (ATHE), as a part of its 20th anniversary conference celebration in Chicago, held the ATHE Summit of Theatre-related Organizations. The Summit's goal was to bring together a number of theatre-related organizations to coordinate present and future activities on issues of importance to the future of theatre and theatre education. These include position papers, arts advocacy, and other issues of interest to the theatre community.
Invited participants included representatives from The Goodman Theater, American Alliance for Theater and Education (AATE), National Association of Schools of Theatre (NAST), National Theater Conference (NTC), Educational Theater Association (EdTA), Actor's Equity, American Society for Theater Research (ASTR), Literary Managers and Dramaturges of America (LMDA), Illinois Theater Association, Kennedy Center/American College Theater Festival (KC/ACTF), Association for Classical Hispanic Theater (ACHT), USITT, Advocacy Subcommittee on Theater Education and Reform Certification and the Black Theater Network (BTN).
Graciously hosted, the Summit provided a place for introductions and conversations among the leadership of a wide variety of theatre and performing arts organizations. With foci including Marketing and Message; AP Exams; Censorship and Freedom of Expression, and Voter Registration at Theatre Sites, work will continue via e-mail. The next meeting will be held in March 2007 in Washington, DC.
As Mr. Jones advised in the introductory quote, "Nothing makes you more tolerant of a neighbor's noisy party than being there." As we position ourselves to be a 21st century player on the ever-changing performing arts stage, USITT must "be there."
To Top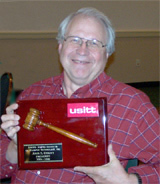 John Uthoff, Immediate Past President, above, accepts a plaque commemorating his service at the Executive Committee Meeting held during August in Phoenix, Arizona.

Photo/Barbara E.R. Lucas