Officer Profile: Lisa Westkaemper
Lisa Westkaemper, USITT's Acting Vice-President for Promotion & Development, says she's done "every job in theatre, even if only for a short time," a perspective which allows her to fully understand the artistic production process. She is occupying a new position within USITT's Executive Committee, with plans to use that role to move the organization forward and raise its visibility nationally and internationally.
A true "Texas girl" Ms. Westkaemper says she left the state only long enough to realize that she wanted to go back. She was born and raised in central Texas and, as pianist and flautist, originally considered music as a career.
A proverbial Halloween costume rental at a theatre in Austin led to a set of different choices, and she was soon working full-time in theatre. She received her BFA in technical theatre from the University of Texas at Austin and her master's in playwriting from the University of North Texas. She recently completed a doctorate in multidisciplinary fine arts from Texas Tech University, where her specializations were arts administration and history/theory/criticism.
She notes that Mavourneen Dwyer, now a faculty member at the University of Arkansas, had a major influence on her choice to become immersed in theatre, and she considers Ms. Dwyer a lifelong mentor. Ms. Dwyer's work as a director and scholar inspired Ms. Westkaemper, and proved to her that theatre, in the hands of a master, can be a life-affecting experience.
Ms. Westkaemper has worked in professional theatre since 1981 in positions as varied as actor, director, designer, technical director, technician, and playwright. In addition, she is an Equity stage manager. This summer she and her husband, Alva Hascall, served as co-artistic directors of the EmilyAnn Theatre's Shakespeare Under the Stars program. She says she and Mr. Hascall have a symbiotic relationship, concurrently serving as one another's best friends and most serious artistic critics.
A major upcoming project is to direct A Christmas Carol Radio Play, a seasonal run of her adaptation of the classic Dickens tale, which is set in a 1941 radio broadcast studio. Part of her autumn will be spent tweaking the script before moving into production at Northwest Theatre in Texas.
Despite these diverse responsibilities, Ms. Westkaemper has still found time for USITT. In 1991, when she was production manager at UT-Austin, Rick Stephens suggested she become involved in USITT as part of the Stage Management Mentoring Project. After serving as a mentor for several years, she was asked to work in the Conference office, and then became even more involved as assistant programming coordinator, working on the intricacies of Conference operations. She also found time to serve two terms as a Director at Large, starting in 1999, and continues to serve on the Institute's Finance Committee.
Because of her involvement, Ms. Westkaemper knows that "USITT is many different things to many people, which can be both an asset and a liability." That diversity makes it difficulty to explain or to market, and she acknowledges the challenge of facilitating the organization's journey towards a heightened visibility within the cultural arts.
Ms. Westkaemper's diverse experiences and talents should serve her well in the position of Acting Vice-President for Promotion & Development.
To Top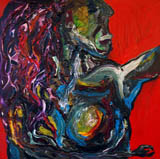 Ursula, by Jenny Shanks, is an original piece of art from the collection of Lisa Westkaemper and Alva Hascall.
Reproduced with permission.