Planning a 50th Celebration!
Every winter the USITT Board of Directors meets in conjunction with LDI. This year, there were meetings of the 50th Anniversary, Executive, Publications, and Finance committees, and both a Board of Directors Retreat and a formal Board Meeting. Despite all the distractions, such as Disney World and Universal Studios (not to mention LDI) everyone involved in the meetings spent their time indoors working on the business of the Institute.
The most exciting activity at the meetings was the Board of Directors Retreat. In the year 2010, we will hold our 50th annual conference. Since 50 years is an anniversary that not many organizations get the chance to celebrate, we feel that it is important to include as many individuals as possible in planning this event.
When you take 30 to 40 creative people, supply some refreshments, and focus their thoughts on a big party, exciting things begin to happen. The board divided into five groups to brainstorm how USITT could celebrate 50 years. These lists were then presented to all with wild applause for the best ideas. These included such things as Conference parties every night, making the 50th a family event, international video birthday cards, and nationwide celebrations.
As members of USITT, I urge you to join in planning the celebration. Please continue to follow the planning at www.usitt.org/activities/USITTat50.html and feel free to join in the process.
Below, the Board of Directors retreat featured laughter and free-flowing ideas for ways to celebrate USITT's 50th birthday in 2010.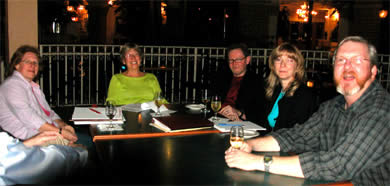 To Top