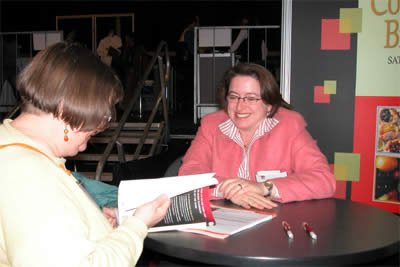 USITT member authors, including Linda Essig, right, were on hand in 2005 to be part of the book signing party sponsored by the Publications Committee. The signing sessions have become an annual event at Stage Expo.

Photo/Barbara E.R. Lucas
Opportunity for USITT Member Authors
The many fine books written by USITT members will again be acknowledged and promoted at the USITT Conference & Stage Expo in Louisville. All members who published a book about some aspect of theatre design or technology in 2005 may participate. To qualify, books must be available for sale in the United States now or by December 31, 2005.
In Toronto, at the 2005 Annual Conference & Stage Expo, eight authors met with colleagues and fans and autographed copies of their new books. Robert Bell had copies of his book about pioneers in the digital lighting industry, Let There Be Light. Peter Beudert and Susan Crabtree showed off the second edition of their popular book about scenic painting, Scenic Art for the Theatre. Jody Blake, curator of the Tobin Collection at the McNay Museum in San Antonio, hand-carried copies of the latest exhibit catalog, High Drama: Eugene Berman and the Legacy of the Melancholic Sublime. Richard Brett had Theatre Engineering and Architecture, a three-volume set of books about engineering he compiled from the proceedings of the Modern Staging Technology and Performing Arts Buildings conference. Linda Essig had the second edition of Lighting and the Design Idea. Miodrag Tabacki signed copies of beautifully illustrated monograph written about his work, Miodrag Tabacki. Paul Thompson, education director of the Make-up Designory, had copies of his latest textbook, Character Make-up.
The first step to participate in the Louisville book party is to contact David Rodger as soon as possible at David_Rodger@usitt.org or 502-426-1211. USITT will make arrangements to buy copies of books to have on hand. The deadline for participating is December 15, 2005. The party is tentatively scheduled for Thursday afternoon, March 30, 2006. Scheduling details will be announced later.
To Top