Apply by December 9 for
Student Travel Award
Students, do you wish you could travel abroad to conduct research or see theatre in other countries? Go to Greece to see the roots of theatre practice? Conduct research in France for that French play you are designing for your MFA thesis?
The USITT Student International Travel Award is a biennial award offered to students seeking funding for theatre related international travel. The award amount is $1,000 and is supported by the travelers on past PQ tours.
Prospective projects cover a wide variety of topics from research, education and design to attending theatre festivals. In years when there is a Prague Quadrennial, preference is given to projects related to attending the PQ. The next round of applications, due on December 9, will be for the award period of March 2005 to March 2006 and will not include the PQ option. One award winner will be selected, and the award will be presented at the Annual Conference & Stage Expo in Toronto, Canada in March 2005. (You do not need to attend the conference to receive the award.)
Students who want to travel abroad and who are current USITT members with Junior/Senior or Graduate standing are encouraged to apply for this award. Applicants will need to compose a project narrative (500-word maximum) describing your project, where you are going, planned timetable and budget, and what you hope to accomplish while overseas.
A report of the project is required by the end of the award year, either in the form of a conference presentation, an article, or other written/visual documentation. In addition, the application should include a letter of recommendation from a current teacher, a resume, and, for design applications, ten images of recent work.
Design portfolios need to be submitted by CD. The application form and complete details are available at the USITT web page at www.usitt.org. For answers to your questions, contact Sandy Bonds at abonds@darkwing.uoregon.edu.
To Top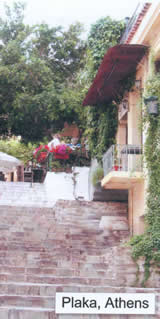 Athens, Greece is just one of the hundreds of destinations students might visit with assistance from a USITT Student International Travel Award. Deadline for the 2005 funding cycle is December 9, 2004.