May was a busy month around the USITT Office, with visits from officers and members alike. We were glad to welcome Reid Neslage from H & H Specialties, Inc. who was in Central New York for business appointments. He took the opportunity to tour the office and also spent time visiting old friends.
Also in May, President Bruce Brockman and President-Elect John Uthoff spent several days reviewing the past year with staff members and plotting details on the upcoming year.
At month end, Immediate Past President Bill Byrnes piloted a day-long meeting reviewing data management needs and examining future needs.
While Mr. Byrnes is ending his term of office as IPP on July 1, he will still be very involved with arts management. He was recently elected to a three-year term as a member of the Board of Directors of the Association of Arts Administration Educators. He also presented on a panel about research methodologies in teaching arts administration. On the publishing front, the second edition of Mr. Byrnes' Management and the Arts is now out in Chinese with the Indian translation due out next year.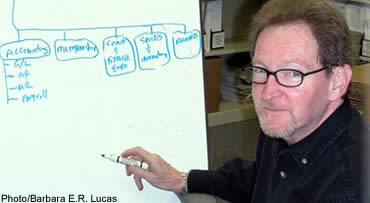 To Top