AMPTP Joins ESTA
Certification Council
The Alliance of Motion Picture and Television Producers (AMPTP) has accepted a permanent seat on Entertainment Services and Technology Association's (ESTA) new Certification Council.
AMPTP is the primary trade association for labor issues in the motion picture and television industry. AMPTP negotiates 80 industry-wide collective bargaining agreements that cover actors, craftpersons, directors, musicians, technicians, and writers - virtually all of the people who work on theatrical motion pictures and television programs.
The Certification Council is the governing body that manages the development and implementation of a new industry certification program for entertainment technology technicians.
AMPTP appointed Dennis King, AMPTP Vice President, as its representative to the Council. Mr. King is chair of the Motion Picture Industry-Wide Labor Management Safety Committee, serves as a management member on the Cal-OSHA State Advisory Committee, is a registered safety professional, and is a member of NFPA 140, the American Society of Safety Engineers, and the State of California Fireworks Committee.
The ESTA Certification Council members represent the diversity of the entertainment industry. The members are key leaders in entertainment business, labor, facilities, association, and academia segments. The members include CITT, IATSE, IAAM, TEA, and USITT. With the help of these members, the key areas of electrical skills and rigging skills have been identified for initial development in the Entertainment Technician Certification Program.
To Top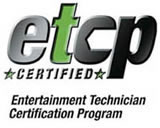 The Certification Council now includes CITT, IATSE, IAAM, TEA, USITT, and AMPTP.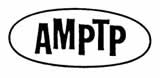 The Alliance of Motion Picture and Television Producers is the newest member of the Certification Council.