Thoughts from David Grindle
USITT Executive Director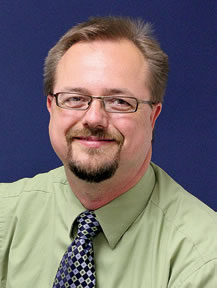 Who belongs?
Humans, by our nature, want to form groups. We seek out people that have similar interests and try to bond with them. That's part of what has made USITT so successful — the ability to bring everyone together.
There are plenty of associations out there dedicated to theatre technology "groups," but USITT is the only one that brings together everyone. We have designers and technicians. We have all areas of design. We have end user and manufacturer. We have entry level and established professional. We have diversity of thought.
That diversity is on display whenever we meet. I sometimes joke that if you put five of our members together, you'll get eight points of view. But I think that's a good thing. In a world where digital media allows you to interact with people that share your identical points of view, USITT brings together people with a variety of perspectives, and we keep trying to make a space for all those people.
We aren't always going to agree with one another, and I'm thankful for that. The ability to hear one another's point of view or concern is important, but at no point should we always be in perfect agreement. That creates the "echo chamber" we are experiencing in our society today.
I was pleased to hear diversity of thought at the Annual Conference & Stage Expo in Fort Lauderdale. I'm excited to hear diversity of thought amongst our leadership. I love to hear points of view from the membership that we serve because all those diverse opinions strengthen USITT.
Don't read my words and think I'm living in a Pollyanna world. I have to remind myself that differing opinions are good because they inform my own. They help me strengthen my point of view or adjust it. That doesn't mean that I'm always in the mood to hear them. But I know they are good and good for the organization.
USITT needs you and your unique point of view to be the organization it was founded to be. Our founders created an organization "for the better interchange of knowledge in the field of theatre technology," according to our charter. And that means being a space where everyone brings their point of view and it is shared.
I experienced that yet again at the Annual Conference & Stage Expo and I am excited to say that we are working on opportunities to make that happen online and in person throughout the year. But please bring your world experience to the table. Be open to learning from others with more and less experience than you. Because that open interchange is just as important in today's world as it was in 1960 when those words were penned.
Thank you for making USITT the organization it is today and will grow to be in the future.