News & Notices
Member Spotlight: Rob Matthews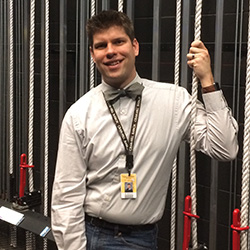 Q&A with Rob Matthews, Hudsonville Public Schools Auditorium Director, on his experience as a 2017 Rigging Safety Initiative Grant recipient...
What made you apply for a Rigging Safety Initiative Grant?
Here at Hudsonville we have two performing arts facilities. One opened in 2015, which is what prompted the district to hire me, and we have a small high school auditorium built in the 60s that's just always been there and fell into my job as well.
I'm an entertainment electrician by trade, so I'm not a rigging expert, but there were some things that concerned me in both spaces. I have an annual maintenance budget of $1,500, which is enough to fix maybe one thing. The district is committed to creating a safe environment for our students, obviously, but to divert more funding we have to pull it from classrooms and then it starts to become more of a, "Is this really something we need to do? The place was built in the '60s and it hasn't fallen down yet; is there really a problem?"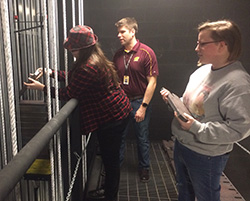 The Rigging Safety Initiative provided an opportunity to apply for funding to help us and it let me talk to the business superintendent and say, "We have inspectors here, let's have that new venue inspected out of the repair budget and make sure everything was installed correctly and done right while the building is under warranty."
We trust our contractors, but on a big project like that a little thing can go unnoticed and can turn into a very big problem later. It was a way for us as a school to get more done without taking money from our students in the classroom where it's really needed.
What was the timeline of the inspection?
We contacted a couple of different vendors within our area and Beck Studios came back with the best quote with the other area we were paying for, but we also wanted to be smart with USITT's money.
We scheduled with Beck Studios and when Mark Wolfson arrived I wanted a full report of what was going on here but I was also hoping that we'd have an inspector who'd be understanding of what we're doing. I wanted help prioritizing things that need to happen very soon to immediately, what are things we should start planning and preparing for in the next couple of years, and ultimately help us to understand the difference between the two.
In the old venue it was good to hear from a specialist that, "Yes, the curtains are worn, but they probably have another 10 years in them. Set aside some money but don't feel like you must replace them all today." It helps the administration to have a prioritization plan.
Mark explained to us the difference between a code violation and what was legitimately dangerous. There were points where he said, "If we were installing your rigging today, we couldn't do it that way, but this was built in 1963 and it's been that way for 50 years." Basically, telling me here's what it should look like and this is the direction you should be moving in to keep this place safe and up to date for your students.
Was the application process simple?
Absolutely! Hudsonville is not a school district that is in a budget crisis, but we applied for it because it certainly helped us and helped our bottom line in a huge way. It was worth the time and if there were schools that had greater need, we trusted that USITT would assign it to whomever had the most need first. I think everyone should at least apply and see where they fall within the spectrum.
Why do you feel the Rigging Safety Initiative is important?
It seems that a common theme in school districts is the schools themselves don't necessarily know much about their theaters. We're a lucky school district in that I have a degree in theatre technology, but not every school has an actual entertainment technician running their spaces.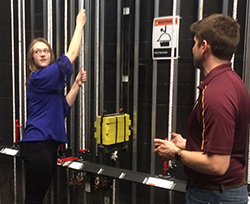 On top of not necessarily knowing how the spaces work, there's a mentality of, "We've always done it this way and because it didn't fail it must be good enough. It might not be correct, but it's good enough."
A lot of times with rigging safety, the indication that something is wrong is when something falls down, and that's way too late in the process. By making these funds available and by promoting the thought that this is something we need to be paying attention to gives us pause. In the case of our school district we have two venues, one of which it was not a tough sell to say, "It's been 20 years since a rigger has been in this building, we should have this building inspected."
The new building is just as important to have inspected even though it's only two years old. We need to take seriously that we're maintaining it properly. The awareness aspect of it and making the funding available was a way for me and my staff to get the administration on board with taking both venues seriously.
Did you get a chance to speak with Beck Studios one on one?
Because of my background in theatre technology, Mark and I had some conversations and we took some time to talk about the rigging. The basic training that he was prepared to give wasn't applicable to me. That being said, I'm glad that it's a part of it because until I was hired the person who coordinated the auditorium space was a teacher who has an acting degree and knows a fair amount about that side of the stage; enough to know that he doesn't really know how the rest of it works. That basic training would've been important for him if he was still the one person overseeing everything to have the opportunity to talk to a professional. That's a critical part of the program even though we didn't take advantage of it per se.
Suggest a USITT Member for the Spotlight!
If you know of USITT members whose work should be in the Spotlight, please feel free to suggest them. Contact Jenn Shuron at jenn@usitt.org.