News & Notices
Announcements
Support USITT as you shop
Go to smile.amazon.com and choose United States Institute for Theatre Technology as the organization you support. Each time you shop at Amazon using smile.amazon.com, USITT gets a donation from Amazon. Make a difference while doing your everyday shopping.
#RigSafe Day
USITT is happy to partner with the Columbus McKinnon Corporation for #RigSafe Day 2018. USITT and Columbus McKinnon will be communicating safety tips all day, April 27, across social media to remind you to #RigSafe. Join in with USITT and our partners around the world to help celebrate Arbor Day on social media and online and tell us how you #RigSafe!
USITT Ohio Valley Section Supports Students Through Programing
By: Karen Glass, Ohio Valley Section VC of Communications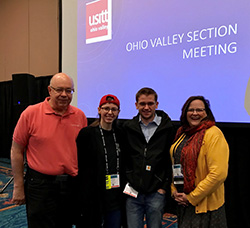 This year six student members of the Ohio Valley Section (OVS) received support to travel to USITT 2018.
Four students received Conference passes through the Peggy Ezekiel Design Expo. The expo is held each year during the section's fall Conference. Each Conference registrant is invited to submit an entry to the expo and the submissions are adjudicated. The top 10 submissions are used to create an exhibit that member organizations can display during the following year. The top three student submissions are awarded a complimentary pass to the Conference by USITT. This year, one of the top entries was a joint project. USITT graciously offered passes to both students so they did not have to split the prize. The students who received passes are Janhavi Chaudhari, Samantha Llanes, Liz Hastings, and Ariel Lacey.
Two students received cash awards of $750 and internships that included Conference passes though the Travel Award Program. This year's recipients are Trenae Waller and Christopher Rees. Future Light, Inc. provided the internships and section membership fees supported the cash awards. The award committee consisted of OVS section board members Paul Sanow, Elynmarie Kazle, Melanie Mortimore, David Castellano, and committee chair Ken Clothier.
Event Safety Alliance to Host Crowd Safety Workshops
Event Safety Alliance is offering USITT members a 20% registration discount for April classes.
If your work involves planning to accommodate large groups of people, you need to know how to plan to mitigate these risks and keep your crowds safe. These courses will provide an understanding of basic crowd safety and techniques to plan and manage safe pedestrian flows in crowded places, even during emergencies. Mark your calendars for one of the workshops below:
Chicago, Illinois on April 5-6
Nashville, Tennessee on April 9-10
Austin, Texas on April 12-13
Los Angeles, California on April 16-17
Registration for each workshop is $235 for ESA members/$260 for non-members. USITT members are eligible for an exclusive 20% discount at both price levels. Please use the discount code USITT when registering to take advantage of this discount.
Registration for all dates is now open.
OSHA 10 Alliance Renewal
OSHA has renewed its alliance with USITT and IATSE. The alliance aims to protect the safety and health of workers in the entertainment industry.
During the five-year alliance, participants will provide USITT and IATSE members with information and educational resources that address falls, electrical hazards, ergonomics, and other industry hazards. USITT and IATSE will educate federal OSHA, state plan, and consultation personnel on industry safety topics, including fall prevention and the safe use of portable power distribution systems. The alliance participants will continue to share information about OSHA rulemaking, enforcement initiatives, and outreach campaigns, such as the National Safety Stand-Down to Prevent Falls in Construction and the Safe + Sound Campaign for Safety and Health Programs.