International
PQ 2019 Seeks Submissions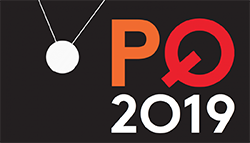 Submissions are being sought for USITT Exhibits for the 2019 Prague Quadrennial of Performance Design and Space (PQ).
The curators of the USITT Exhibit for the 2019 PQ recognize the rich ethnic, cultural, and artistic diversity of the United States today, and are seeking to exhibit design work that mirrors this diversity. USITT is seeking work that represents the finest in artistic achievement presented in the United States between 2015 and 2019.
The work presented will be divided into three exhibitions:
IMAGINATION: Emerging and Student Designers
TRANSFORMATION: Exhibition of Countries and Regions, Professional Designers
PERFORMANCE SPACE ARCHITECTURE EXHIBITION – THEATRE OF OUR WORLD: Architects/Space Creators
All American designers and architects who are living and working in the United States or abroad are invited to submit their work to the curators.
The Prague Quadrennial (PQ) is the largest performance design event in the world. By exhibiting thousands of designs from dozens of countries, and by bringing together designers, directors, students, as well as the general public, the PQ provides an unprecedented exchange of ideas that goes beyond the narrow confines of theatrical design and style.
Deadline: May 1, 2018