News & Notices
Tri-Annual Art Auction and Garage Sale at USITT 2018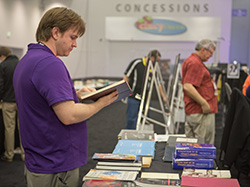 The Art Auction and Garage Sale will take place at USITT 2018 on the Stage Expo floor. The auction is silent and bidders purchase an auction catalogue and bid number for a $5 donation that they then use to bid on items throughout the Conference. During the last hour of Stage Expo, bidding is closed and items are sold to the highest bidder. Bidding will be open throughout all the times that Stage Expo is open.
The garage sale will have hundreds of books, posters, archival stage lamps, some artwork, and other collectables that will be available for immediate sale throughout the Conference.
If you have any unique items that are simply sitting around and collecting dust and you'd like for us to help find them a new home, consider donating them. In the past, we have had renderings and related artwork and design materials from designers such as Joe Melzinger, Carrie Robbins, Bobbi Owen, Jules Fisher, Joe Tilford, Doug Schmidt, and Richard Pilbrow as well as historical items such as signed copies of first edition design books and national tour/road jackets.
Contact Rich Dunham or Dennis Dorn about possible auction items or Randy Earle for garage sale donations. Donations are tax deductible and will benefit the Kook Fund and USITT.