Last Word
Register Now and Save Big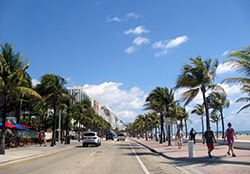 Just four more weeks before rates increase for the Annual Conference & Stage Expo March 14-17 in Fort Lauderdale, which promises to be our biggest and best. Register now and save up to $105.
Attendance for this year's show is expected to be the largest ever for USITT, so you'll also want to secure your housing while discounted room rates are still available.
Join your peers and colleagues for four jam-packed days of inspiration, networking, and training.
Here are a few reasons to get to Fort Lauderdale this March!
Keynote Presenter: Joseph Haj is Director of the Guthrie Theater. Named by American Theatre magazine as one of 25 theater artists who will have a significant impact on the field over the next quarter century, Haj is a visionary leader at one of the nation's top regional theaters.
USITT Stage Expo: opens with fanfare at 11 a.m. Thursday, March 15. Thousands of people gather to swarm the booths of over 300 exhibitors as soon as the doors open to a huge display of theatre technology.

Stage Expo runs 11 a.m.-5:30 p.m. Thursday and Friday, March 15-16, and 9:30 a.m.- 2 p.m., Saturday, March 17. 
Backstage Stars: A panel entitled Distinguished Award Winners in Conversation gathers together renowned industry experts John Lacovelli, Lindsay Jones, Richard Pilbrow, and John McFadden for a lively exchange about their lives and career experiences.
Digital Poster Sessions: This year, poster sessions have gone digital. USITT Poster Sessions are a great way to share information and expand your scholarly activity, including new solutions to old problems, innovations, research results, discoveries, and developments.
Prop Lab: The first ever Prop Lab hands-on experience will be on the Stage Expo floor in Fort Lauderdale. Curated by last year's Early Career Honors speaker, Jay Duckworth, the lab will provide demonstrations and training activities led by well-known properties masters, educators, artisans, puppet makers, and fight masters.
Sessions: Over 260 sessions will be offered across 12 learning tracks including architecture, costuming, engineering, lighting design, scenic design, technical production, management, safety and health, and sound design.
Fort Lauderdale Attractions: Art, history, food, and nature are all at your fingertips in the Fort Lauderdale area. Take advantage of all the entertainment and dining options available during the Conference.