International
PQ 2019 Design Competition Winners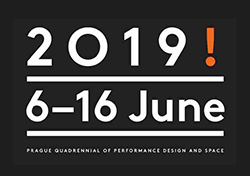 USITT is pleased to announce the winners of the USITT National Exhibit and the Emerging Designers Exhibit competitions for the 2019 Prague Quadrennial of Performance Design and Space (PQ).
The curators of the National Exhibit have chosen a team led by Paige Willson to design the National Exhibit. The curators selected Paige and her team from a field 13 entries. The winning selection comes from a team that includes scenic, costume, lighting, projection, and sound designers, whose proposal represents the unifying and harmonizing concepts of art, thought, inspiration, imagination — the creativity and concordance of the artistic community of the United States as a whole.
The curators of the Emerging Designers Exhibit have chosen Kristen Martino and her team, Studio 6607, to design the Emerging Designers Exhibit. The curators were impressed by several of the entries, but what set Kristen and Studio 6607 apart was their holistic approach to the theme of Porous Borders and the fascinating and unexpected use of water as both a thematic idea and a practical barrier to be passed through.
The leadership of USITT PQ, Kevin Rigdon; Artistic Director, Ian Garrett; Head Curator, National Exhibit, Tom Burch; Head Curator, Emerging Designers Exhibit, and Vince Mountain; Associate Curator, along with the National Exhibit and the Emerging Exhibit curatorial teams, are very excited to work with Paige Willson and Kristen Martino and Studio 6607 in developing the final exhibit designs and exploring the potential dialogue between the two exhibits.
The Prague Quadrennial (PQ), is the largest performance design event in the world. It is often described as the Olympics or World Fair for performance designers. In recent times, the PQ has served as a meeting point for artists from every continent, artists whose traditions and professional lives might not otherwise converge. By exhibiting thousands of designs from dozens of countries, and by bringing together designers, directors, students as well as the general public, the PQ provides an unprecedented exchange of ideas that goes well beyond the narrow confines of theatrical design and style. With three major categories of exhibits — National (professional—designers), Emerging Designers (student and early career), and Performance Space Architecture, the PQ has been a major factor in shaping the direction of world theatre and live performance for the past 50 years.