News & Notices
Member Spotlight: Mark Putman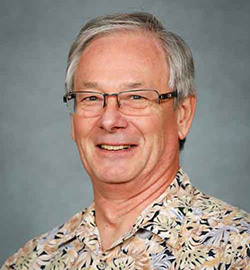 Q&A with production manager and sound designer for Missouri State University and member of USITT's Heart of America Regional Section, Mark Putman
How did you start in production management and sound design?
I started as a technical director and carpenter and worked my way up in the traditional hierarchy. Both of those things equate to "problem solver," and when I got to the university position I didn't see anyone trying to coordinate the various areas of rehearsal schedules, production schedules, room reservations, and budgets. That's something that I felt I could contribute to in a problem solving way. That's how I ended up with that job title.
Do you prefer one discipline over the other?
As I was coming up through the ranks I did a bunch of stuff. I really started as lighting designer and then got more interested in sound. I found people needed more carpenters and welders and that has gotten me further in my career in that middle ground. I then went to grad school in lighting and did sound as well.
I was hired in the position I'm in now as lighting and sound designer at Missouri State University. As this program has grown and the musical theatre program came on board, my skills were more needed in sound and I added on production manager to that. I think it all came back to that problem solving and storytelling.
Do you more enjoy working with students or in freelance?
The professional theatres that I worked in all had apprenticeship or internship programs where there were always people around who were trying to learn those skills. I decided while working at New Mexico State University to go to graduate school so that I'd be able to teach and essentially do that same thing in a university setting as opposed to the professional theatre world.
I certainly enjoy working with students. It presents two different challenges. On one hand, it's relatively easy to find students who are interested in technical theatre. Keeping them motivated is tough because there's the boring and tedious parts of any job, but there's also the excitement of opening nights and such. It's trying to moderate student expectations of that and then in my own career has been a matter of finding the jobs that are more satisfying in one way or another.
Do you have a favorite design style?
As a sound designer, I really love the abstract things where you're doing soundscapes of what's happening in people's brains or what's happening in their environments that are more environmental than musical. I have a good sense of musicality and the ways in which we enhance the storytelling that we do.
Talk about your role in USITT's Heart of America Regional Section.
I've been an officer for 18 years now. I got involved with USITT when I was in grad school. I didn't have an experience with it before. My mentor in grad school suggested I go. The first Conference I went to was in Seattle in 1992. The interviews I did there got me both jobs I've had since graduate school. Heart of America has been a challenge because everyone is so busy and everyone continues to get busier. I've tried to continue to hold the organization together because I feel that it is worthy of that work. Even when we don't get together or have meetings and workshops, I still feel it is important to offer those kinds of things.
How has USITT played a role in your life both personally and professionally?
Most of the opportunities it has given me is meeting the personnel and being able to rub elbows with people who are giants in the industry in all different facets.
Our culture now has elevated celebrity and here are the celebrities of costume, lighting, sound, management, and scenic design across a table from you and you're having conversations with them. They are approachable and it's so eye opening in that they have experienced the same kind of challenges I have. That's the value that I see in USITT — the humanizing of these people that we read about in our textbooks. It's been fabulous and invigorating to hear these people talk about their lives and challenges.
Suggest a USITT Member for the Spotlight!
If you know of USITT members whose work should be in the Spotlight, please feel free to suggest them. Contact Jenn Shuron at jenn@usitt.org.