News & Notices
The Green Scene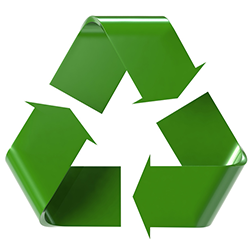 This month's focus is on the work of young artists who recognize the prospect of sustainable theatre making an impact in disciplines other than our own.
As part of her endeavor to make green practices a core part of her undergraduate experience, Barnard sophomore Kassie Fuiten has found herself a contributor in its efforts to impact theatre production through research, statistical gathering, and dissemination. Assistant professor Sandra Goldmark recently described this research in TD&T. As the research continues, students like Ms. Fuiten have the opportunity to make contributions that will further impact the theatre program as well as the broader campus, while serving her educational goals of application of such efforts within her area of study.
Since transferring to Barnard, this Psychology and Gender Studies major has worked on condensing data gathered through the theatre department's efforts into graphic designs that are meant to highlight the work in an understandable way. As an assistant on the production end, she also has witnessed firsthand how intentional design choices geared towards a more sustainable outcome can have an impact on the build of a show. Her knowledge then allows her to describe these efforts to those outside the discipline of theatre, which she views as one of the most valuable ways that her contributions can have an impact.
Often, the sustainable work of theatre artists can come as a surprise to individuals who are not connected to it in any way, just as the production process itself is often invisible to many. Through her campus's Sustainable Practices Committee, Ms. Fuiten has been able to participate in working sessions organized around brainstorming and strategizing tactics for a variety of topics. By participating in these meetings, other entities across the broader campus community learn of and can expand on the collaborations of the theatre department as they envision new ways to implement practices within their own subjects.
Based on Ms. Fuiten's example, students should challenge themselves to seek out ways of disseminating the greening efforts of their theatres to broader audiences, and educators focused on shifting the theatrical production paradigm should intentionally seek out students from across all disciplines to find new contributors to the cause.