News & Notices
LiNK 2017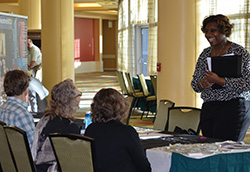 Looking for your dream grad program? Come to LiNK 2017 and meet recruiters from more than 50 schools offering advanced degree theatre programs.
Participating schools from across the country will meet master's degree candidates through interviews and demonstrations of work across theatre disciplines including design, technology, and management. Candidates can explore options for advanced education and connect with more than 50 graduate school programs in one affordable and convenient location.
When: November 10-12, 2017
Where: Atlanta, GA
Candidates: connect with recruiters from over 50 schools and showcase your skills and portfolio of work. Register here.
Recruiters: represent your school and join your colleagues from leading graduate programs while identifying top candidates for your program. Register here.
Programs and tracks are available in these areas:
Acting
Arts Management
Costume Design
Costume Technology
Directing
Lighting Design
Lighting Technology
Makeup and Wig Design – NEW in 2017!
Media Design – NEW in 2017!
Production Management
Properties Design – NEW in 2017!
Scene Design
Sound Design
Stage Management
Technical Direction
LiNK 2017 is presented in partnership by SETC and USITT and sponsored by Routledge.
For audition related questions, contact claire@setc.org. For all other LiNK related matters, contact christine@usitt.org.