News & Notices
Early-Career Mentorship Program
Fellows Early Career Member Mentoring: A Great Success in St. Louis.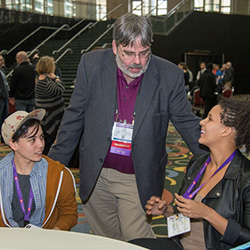 The USITT Fellows were pleased to sponsor two early career mentees (ECMs) at USITT 2017 in St. Louis by awarding them a complimentary Conference registration and a $1,000 stipend to assist with expenses. Through an application process Katie Gruenhagen and Korey Lamb were selected as last year's winners. In addition to the registration and stipend, Katie, an up-and-coming lighting designer, was paired with one of our newest Fellows, Rich Dunham, as a mentor. Korey who has started his professional career in stage management and sound design, worked with both Joe Drummond (recently retired after 42 years with the Goodman Theatre) and Elynmarie Kazle as his mentors. Time was spent with both ECMs learning about their aspirations, attending sessions, meeting other members and providing career guidance.
Rich, in his follow-up report said:
"I was able to make some important introductions for her …. many of them being Fellows of the Institute. We had a couple of one hour just-getting-to-know-one-another sessions where we were able to informally talk about both our careers. We went to several sessions together allowing me to introduce her to the Lighting Commission and several folks who are doing important things there. I believe that she will be getting involved in Institute activities on multiple fronts over the years and that she has a bright future in designing."
Katie reports:
"Prior to the Conference, I spoke with Rich on the phone to plan an initial meeting. It was great to jump right into conversations about USITT, freelance life, and the shows we were both working on. I was very thankful and humbled by the amount of time Rich spent with me. My most memorable experience was our last conversation during one of the last days of the Conference. We met at the Fellow's Lounge at Stage Expo and spoke about the mentoring experience and goals in my career. Rich shared insight, gave advice, and offered opinions on some of my thoughts for future USITT involvement."
Joe in his follow-up report said in part:
"Since Korey was torn between pursuing a career as a stage manager and / or sound designer we had plenty to discuss. On Friday, Korey attended the events that I was participating in and we were able to catch up between sessions. On Saturday, we met for lunch and he shared all the conversations he had with fellow stage managers and sound designers. Elynmarie Kazle had introduced him to Distinguished Achievement in Sound Design & Technology winner, Richard Thomas. I found Korey to be a very smart young man and eager to take advantage of every second of the USITT convention. I assured him I wanted to continue our relationship and was always available via email and cell phone to answer any questions or provide advice he needed."
Korey's follow-up report included:
"The Early Career Mentorship Program helped me beyond measure at this year's Conference. From the moment I arrived in St. Louis I felt like I was more prepared than the last Conference I attended. Upon meeting Joe, I knew that I was in the right hands. The second day Joe introduced me to Elynmarie, who proceeded to take me around the Stage Expo and introduce me to several people and offered to introduce me to anyone else I was interested in. From the moment I met these mentors (Joe & Elynmarie) I knew that they were greatly interested in my career and wanting to help me in any way possible. I know that as I progress in my career they will both help me with any roadblocks or barriers I encounter."
The Fellows' ECM mentoring is a career enhancing leg-up for young professionals just getting started, and in many ways, provides guidance they could not otherwise find.