News & Notices
eSET Basic Terms & Safety Test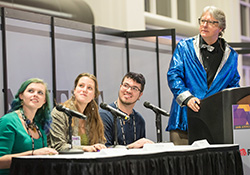 Thanks to your feedback, we are pleased to bring you a new and improved eSET Basic Terms & Safety Test.
Show the world you are ready to work. Test your readiness to speak with employers. Stand out from your peers. Show your mastery of the basic skills by taking the eSET Basic Terms & Safety Test.
It's FREE, and you can take the eSET Test from anywhere, right from your iPhone or Android.
If you took the Basic Skills test before and didn't pass, we encourage you to take it again.
Register for the online exam here »
Get ready, eSET, succeed!
The re-design of the Basic Terms & Safety Test was led by Beth Martel, WRL Design, and Darren Levin, Middle Tennessee State University.