News & Notices
USITT Presents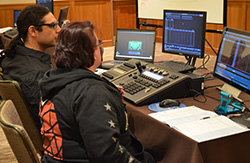 If you're looking to take your skills to the next level, or just getting started and seeking an in-depth look at new technologies, USITT Presents has a training offering for you.
USITT Presents sessions are made available through a collaboration between USITT and its organizational members to provide product- and technique-specific training for USITT members and their colleagues.
These sessions come at the lowest prices available for professional training in the industry. Prices range from $30 to $120 per session per day depending on membership level. Hundreds of dollars in savings make these sessions affordable for students as well as professionals.
Sessions take place March 6-8 in St. Louis leading up to the Annual Conference & Stage Expo. Click on the links below for session details and registration information.
Sessions Include:
To register for USITT presents, click here or on a link of your interest above.
To register for USITT 2017, click here »