News & Notices
Rigging Safety Grants Announced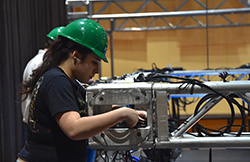 USITT has approved funding for stage rigging inspections and safety training at no cost for 12 additional schools as part of its Rigging Safety Initiative (RSI).
RSI has approved applications from over 100 schools spanning across 25 states since its start in 2011. Schools can apply for the free inspections twice a year, in spring & fall.
The schools that have been awarded free inspections as well as four to six hours of safety training for up to eight staff members and students are:
Amos P. Godby High School, Tallahassee, FL
Arroyo Grande High School - Clark Center for the Performing Arts, Arroyo, CA
Cardinal Heights Upper Middle School, Sun Prairie, WI
Chaska High School, Chaska, MN
Cypress Ridge High School, Houston, TX
Cypress Woods High School, Cypress, TX
East Kentwood High School, Kentwood, MI
Kenton Ridge High School, Springfield, OH
Monroe High School, Monroe, WI
Riverview High School, Riverview, FL
Scarborough High School, Scarborough, ME
The King's Academy, Sunnyvale, CA
"In the past five years USITT has been able to aid in improving safety for hundreds of thousands of our nation's secondary school students through the Rigging Safety Initiative," said USITT Executive Director David Grindle. "Our participating providers are not only inspecting schools, but providing training through the RSI, so that we continue to support and grow a culture of safety from an early age."
A panel of USITT rigging experts determines which applications are approved based on their need, safety concerns, and the amount of funding available.
Companies which employ ETCP Certified Riggers can participate as rigging inspectors. Current RSI sponsors include H&H Specialties, ETC, and JR Clancy.
Applications for the next funding cycle are due April 25, 2017.
To apply and to be considered for RSI, click here.