News & Notices
DAA Award Winners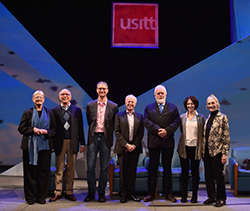 USITT is proud to announce its winners for the Distinguished Achievement Award.
Professional rigger Rocky Paulson, lightening pioneer Fred Foster, costume designer Liz Covey, sound designer Rick Thomas, scenic designer Santo Loquasto, production stage manager Joseph Drummond, and educator John Conklin will be honored with USITT Distinguished Achievement Awards at USITT's 2017 Annual Conference & Stage Expo in St. Louis March 8-11.
Winners will also participate in USITT's popular Distinguished Achievers in Conversation session at America's Center Convention Complex.
Every year USITT recognizes a select few members whose careers have advanced the performing arts and live entertainment industry.
Full bios available on USITT website.
Rocky Paulson will receive USITT's 2017 Distinguished Achievement Award in Technical Production. Paulson is the founder of Stage Rigging, a production rigging company. It was the first of its kind and still maintains a high profile in the industry 10 years after his retirement. Until 2006, Paulson had the opportunity to be involved with many rock tours, corporate events, films, and major rigging events such as national political conventions, Olympics, and Super Bowls. He spent significant time educating the Stage Rigging riggers and others in the industry by writing articles and teaching.
Fred Foster will receive USITT's 2017 Distinguished Achievement Award in Lighting Design & Technology. Foster is ETC's founder and CEO. Foster has received some of the industry's top honors: the 2015 Knight of Illumination Lifetime Recognition Award, the 2013 Ken Hendricks Memorial "Seize the Day" Award, the 2010 USITT Midwest Regional Section Award, a USITT Special Citation, the 2007 Wally Russell Lifetime Achievement Award, and the international 2010 Gottelier Award. Foster also won the Wisconsin Governor's Award for the Arts 2010, given to ETC as a vital and progressive force for creativity in the state.
Liz Covey will receive USITT's 2017 Distinguished Achievement Award in Costume Design & Technology. Covey is co-author with Rosemary Ingham of The Costumer Designer's Handbook and The Costume Technician's Handbook. Covey's costume designs have been seen at over 20 of the major theatres across this country. Covey has taught at Barnard College/Columbia University, Marymount Manhattan, Muhlenberg College, Bennington College, and was an instructor for the Theatre Development Fund Intern Program for several years.
Rick Thomas will receive USITT's 2017 Distinguished Achievement Award in Sound Design & Technology. Thomas has had a long, successful career as a composer, sound designer, author, playmaker, and educator, and has been active in presenting at the USITT Annual Conference for close to 40 years. Thomas was recognized with the Purdue University Outstanding Undergraduate Teaching Award in Memory of Charles B. Murphy in 2007 and was included in the Book of Great Teachers at Purdue in 2008. Thomas is a Fellow of USITT, where he was awarded the Joel E. Rubin Founder's Award. He is a former Sound Commissioner, associate editor for sound for Theatre Design & Technology, and a member of the USITT Board of Directors. He is an elected member of the National Theatre Conference and founder of the OISTAT Sound Design Group.
Santo Loquasto will receive USITT's 2017 Distinguished Achievement Award in Scene Design & Technology. Loquasto has some 430 projects to his credit in his 52-year career. He has been either costume designer or production designer for 30 Woody Allen films and was nominated for Oscars for costumes for Zelig and production design for Radio Days and Bullets Over Broadway. His other film designs include Desperately Seeking Susan and Big. Loquasto has designed for opera at the Metropolitan Opera and the Chicago Lyric Opera and for dance at the New York City Ballet, American Ballet Theatre, and the National Ballet of Canada. Loquasto has had career-long collaborations with choreographers Twyla Tharp and Paul Taylor. Loquasto has been nominated for 18 Tony Awards, 3 of which he has won.
Joseph Drummond will receive USITT's 2017 Distinguished Achievement Award in Management. Drummond recently retired as a production stage manager with The Goodman Theatre in Chicago after 42 seasons. Drummond taught stage management at Roosevelt University for 21 years and is the recipient of the Joseph Jefferson Award for Lifetime Achievement after 25 years of stage management at the Goodman. He is a 45-year member of Actors' Equity Association and currently the Central Region Rep of the Stage Managers' Association.
John Conklin will receive USITT's 2017 Distinguished Achievement Award in Education. Conklin is a scenic and costume designer that has designed for opera, theatre, and ballet in a career spanning 50 years. Conklin has designed for the Metropolitan, San Francisco Opera, Paris Opera, The Royal Opera (Stockholm), Houston Grand Opera, the Opera Theatre of St Louis, Glimmerglass Opera, Seattle Opera, and others. Mr. Conklin is a professor at the Tisch School of the Arts at New York University.