News & Notices
Architecture Award Winners
USITT's 2017 Architecture Awards feature three top honor award winners this year: Maltz Performing Arts Center at Case Western Reserve University, The Isabel Bader Centre for the Performing Arts at Queen's University, and Writers Theatre in Glencoe, Illinois.
The Maltz Performing Arts Center, designed by MGA Partners Architects is a nationally registered historic synagogue in Cleveland, Ohio at the performing arts center for Case Western Reserve University. The renovations included the addition of an acoustic canopy, theatrical lighting, a stage and piano lift, acoustic wall panels, as well as restored seating and interior finishes. In addition, a chapel in the rear of the building was converted into a recital hall, and support spaces such as a green room and control rooms were added.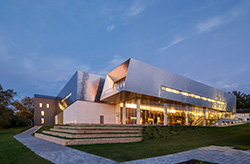 The Isabel Bader Centre for the Performing Arts at Queen's University, designed by Snøhetta at a total cost of $72 M, is a catalyst for the arts at the University. An 80,000 square-foot building unites a diverse range of the University's performance and creative art disciplines under a single roof. With a 566-seat performance hall, classrooms, rehearsal and performance spaces, the Isabel provides a supportive learning environment for young artists and performers to grow in their discipline.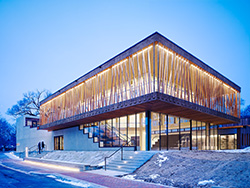 Writers Theatre designed by Studio Gang Architects increased capacity while maintaining its trademark intimacy and the close audience-performer connection found in their original smaller spaces. The design team realized this goal by working collaboratively to create new, technologically advanced performance spaces that are still reminiscent of the theater's former venues. While the size of each venue was effectively doubled, they remain as intimate and immersive as Writers' original spaces.
Receiving architectural merit awards will be:
Ascend Amphitheater in Nashville, Tennessee
Bicknell Family Center for the Arts at Pittsburg State University in Pittsburg, Kansas
Chapman University Musco Center for the Arts in Orange California
Moss Arts Center at Virginia Tech in Blacksburg, Virginia
Mount Royal University Taylor Centre for the Performing Arts in Calgary, Alberta Canada
The Architecture Commission will present the awards at the Annual Conference & Stage Expo Friday March 10, 2017, 5:30pm-8:30pm in St. Louis. The Conference also will offer multiple architecture sessions, several for AIA/CES credit.