News & Notices
Jenn Shuron and Matthew Carroll Join USITT National Office Staff
The USITT National Office is pleased to welcome our two newest marketing staff members: Jenn Shuron, Content Specialist; and Matthew Carroll, Social Media Specialist.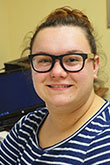 Jenn is happy to be a part of the USITT National Office Staff after being involved in community theatre for over 12 years.
Jenn graduated from SUNY Oswego in May of 2016 with a bachelor's degree in journalism and gender and women's studies, and worked as the section head and editor of the opinion section of her college's student run newspaper, The Oswegonian.
Jenn develops content for USITT's three newsletters: Sightlines, College2Career, and Conference News.
Contact Jenn at Jenn@usitt.org.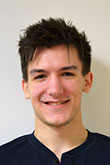 Matthew Carroll also recently joined USITT's staff at the National Office as Social Media Specialist.
Matthew graduated from RIT in May of 2016 with a bachelor's degree in New Media Marketing. He was a founding member of It's Time: EXOUT Extremism, a global social media campaign for combating violent extremism across the globe.
Matthew supports USITT's outreach efforts through social media channels including Facebook, Twitter, and LinkedIn.