News From David Grindle, USITT Executive Director
Why be part of USITT?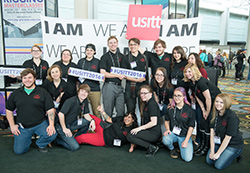 Possibly you've asked yourself that question. Possibly someone has asked you. Each member has a different answer.
For some it is because they go to the Conference, for others they love TD&T and the publications. There are even some who do it out of "habit." Whatever your reason may be, the coming year holds many more, exciting reasons.
The Commissions and Board met in St. Louis in August and generated new ideas and opportunities for learning and creativity at all levels that will be rolling out over the coming months. It was exciting to see the number of new ideas Board Members came up with.
Learning is coming, both in person and online, so that you can get information without always having to travel. We are taking more and more steps towards bringing USITT closer to you every day of the year.
If you have access to the web, you have access to TD&T at www.usitt.org/tdtcurrent. If you login to usitt.org, active members can search the archive of all 50 years of TD&T. Every issue has been digitized and is searchable. While the archive had been available online, we invested in making it complete and searchable for members. I hope you'll check it out and use it. (Reading the first issue of TD&T is actually quite fun!)
The year will be a big one for USITT members. Our Conference in St. Louis has new hands-on opportunities for learning. The second Glerum Masterclasses in Rigging are soon to be announced. Costume Symposium will be a whole different opportunity thanks to the work of the Costume Commission leadership.
Membership in USITT is making an impact on individuals and our industry. You can be proud to state that you are part of an association that is investing in the present and the future while preserving the past. Your membership is key to both the financial and community support of the Institute's work.
Having members be part of the creation, participation, and support of the work of USITT show others that we are an active, vibrant organization that produces material used by the broad spectrum of our industry.
When you renew this year, you'll see a redesigned membership card. That was done to reflect the new USITT that is working to make a stronger impact on our community. I hope you proudly place your member window cling where it can be seen. And when someone asks you why you are a member, you can show them the resources available to you and the work being done. Have a great year.