News & Notices
Member Spotlight: Kristi Ross-Clausen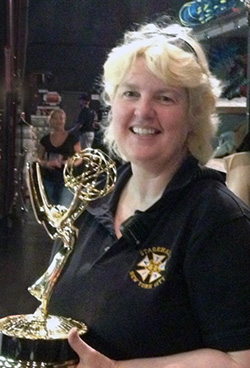 Kristi Ross-Clausen, Production Stage Manager at University of Wisconsin-Madison, safety consultant, and author of The Stagehand's Toolkit.
USITT: What was your first live theatre experience?
Kristi: I grew up in rural northern Wisconsin, so it was school and 4H. My high school didn't allow girls on the crew other than costumes/make-up and painting the set, so I performed. I didn't see my first professional show until I was in high school – a van and trailer version of La Boheme done in a school gym by six performers with piano accompaniment.
Ironically, I became a fan of professional theatre by watching the movie versions of West Side Story, South Pacific, Oklahoma, and Sound of Music on TV.
You went to college for music. How did that lead you to theatre tech?
I worked my way through Lawrence University as a recording engineer for the Conservatory's classical and jazz concerts. One summer, I worked at a camp as the A1 for its performing arts center which included the high school theatre performances. The guy running the spot light for the school shows taught me how to do that. When I returned to school that fall, I started working student-designed shows which led to overhire opportunities and an apprenticeship with IA local 470. Years later, the lighting guy from the summer camp was the department head on my first Broadway tour!
Please share your production background. How did you learn so many disciplines?
Read everything plus asked polite questions from smart people. My parents taught me cooking, sewing, electronics, hand drafting, carpentry, etc. which gave me a great foundation. Pappy Alderson (Mick Alderson's dad), told me the more things I could do, the more opportunities I'd have to work IA gigs, so I do it all! I love the fact there is always something new to learn, and the biggest names in the business graciously share their knowledge. If I don't know the answer, I can look it up or call someone who probably does. Now I'm on the receiving end of those calls, too.
What led you to be a stage manager? What do you like about calling shows?
Becoming a stage manager was a natural progression into leadership. I've been blessed to be mentored by some excellent people including David Stewart and Tom Bartlett.
I like the satisfaction of calling a perfect show and enjoy the challenge of handling the unexpected.
You have worked on huge concerts for famous bands like the Eagles and Steely Dan, and on Broadway touring shows. Which do you prefer?
Broadway.
How did you get involved with USITT? Why do you support it?
USITT is the room where it happens for theatre tech. It's part business, part education, part extended family reunion, and all fun. Nothing else provides all those aspects in one place.
How did you end up teaching? Please describe your job at UW-Madison.
I taught K-12 choral/general music for years, just added IATSE Trained Trainer to my resume. After a one-year gig at the University of Wisconsin - Madison as production stage manager, I'm going back to K-12 teaching as technical theatre teacher at Nicolet High School in Glendale, WI.
What would you tell a student who asks what it takes to be a stage manager?
The same thing Pappy told me: the more you know, the more jobs you can take. People see the tangible of your show bible and hear you call it, but the real work is in supporting everyone involved in the production. Even if you're "only" a stage manager or "only" a lighting designer, knowing how the rest of the crew works makes you more valuable to everyone. The stage manager has to be like a duck -- cool and calm gliding along the surface while paddling madly underneath. Your ultimate boss is the audience member in the back row who just spent her last dollar to buy a ticket. If she's not happy, she won't come back and the company will eventually cease to exist. This is show business, and every business must pay the bills.
What is your favorite show you ever worked on?
Shows are like children – can't pick a favorite.
What's your bucket list show to call?
Paul Sanchez wrote a musical based on the book Nine Lives about New Orleans and Hurricane Katrina. The music is an amalgamation of every style you hear in New Orleans, and the story is an inspiring one of how real people persevere through overwhelming situations. My bucket list show is to call that on Broadway.
Suggest a USITT Member for the Spotlight!
If you know of USITT members whose work should be in the Spotlight, please feel free to suggest them. Contact Lynne Dundas at lynne@usitt.org.