Conference & Stage Expo
Last Word: Let Your Creativity Soar!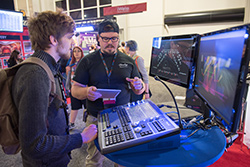 Are you on board for St. Louis?
With registration opening October 3 and Conference planning in full swing, now is the time to get on board with the many Conference opportunities your membership offers.
Gateway, Young Designers & Technicians Awards, the Stage Management Mentor Project, Tech Expo, Light Lab, and other programs offer ways to grow and be recognized.
Look for USITT 2017 information at usittshow.com.