News & Notices
Puppets to Star at Costume Symposium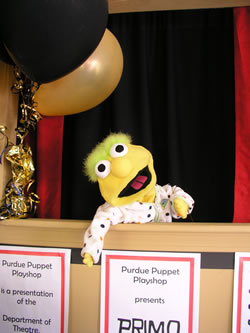 For anyone who has wondered about the intricacies of puppets and marionettes, the USITT Costume Design & Technology Commission is holding Puppet Boot Camp August 2 to 4 at Purdue University in West Lafayette, Indiana.
Participants will explore the skills necessary to successfully create and then manipulate basic puppets. Each participant will receive detailed instruction in how to make and how to operate four simple but effective forms of puppetry, using easy-to-learn techniques that the beginner can master and more intermediate puppeteers can appreciate.
On the learning agenda are:
"scarf" marionette
"Muppet"-style hand puppet,
Chinese rod puppet, and
shadow puppet.
At the conclusion of the workshop, participants will have completed four puppets and receive a workbook and CD containing all materials, patterns, and Power Points used for instruction.
Purdue University's Department of Theatre will host the 2012 Costume Symposium, Puppet Boot Camp.
The three-day event will also include a visit to the Indianapolis Museum of Art to explore the museum holdings, the textile and fashion arts collection, and the extensive gardens.
Joel Ebarb, Associate Professor and Chair, Purdue University Department of Theatre will chair the symposium. He will be joined by Rachel Lambert, Costume Shop Manager for Purdue University's Department of Theatre.
Click here for a complete lineup of Puppet Boot Camp activities and sessions, or to register for the event.