News From
Around the Institute
Amazing Conference
This issue of Sightlines captures a few snapshots of all that occurred at the 52nd Annual Conference & Stage Expo. New products were launched, new Fellows were inducted, and creativity and innovation was honored during four exhausting and exhilarating days in Long Beach.
Look for more specifics in the May issue, as we organize and collect information.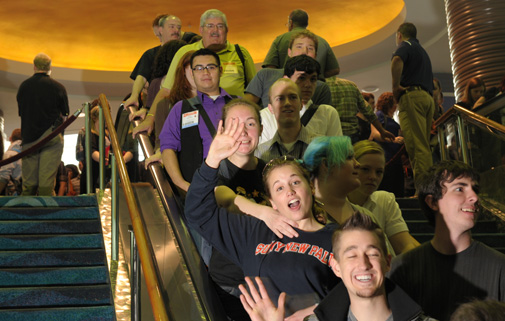 Jacob Stutesman Wins
Congratulations to Jacob Stutesman, winner of the 2012 Sapsis Rigging Professional Development Award. He will attend the Rigging Fundamentals professional development workshop without charge thanks to the generosity of Bill Sapsis and Sapsis Rigging Entertainment Services, Inc. Mr. Stutesman's name was selected at random from all those students who registered for the PDW before the early deadline, the process which Mr. Sapsis requested. A period-correct fedora approved by a member of the Costume Design & Technology Commission was employed during the selection process.
Announces the Top 10 Rose Brand Scholarship Finalists
Rose Brand announced the finalists of the Rose Brand Scholarship on its Face Book Page. The top 10 were comprised of graduate and undergraduate students from across the United States. The finalists will now be judged by a panel of experts in the industry, which include Scenic Designer and Tony Award Nominee Anna Louizos; the CEO of Hudson Scenic, Neil Mazella; Scenic Designer and Tony Award Nominee Beowulf Boritt; and Production Designer and Emmy Award Winner Joe Stewart.
The ten finalists are Sarah Brandner, graduate student, University of Minnesota-Twin Cities; Andrew Broomwell, graduate student, University of California- Irvine; Stephanice Busing, graduate student, University of Texas-Austin; Ryan Grossheim, graduate student, San Diego State University; Matthew Iacozza, sophomore, University of Connecticut; Michael Lewis, senior, Emory University; Richard Ouelette, senior, Keene State College; Stephan Michael Moravski, graduate student, New York University; Samantha Sayers, junior, State University of New York–Fredonia; and Yu Su graduate student, Carnegie Mellon University.
The Rose Brand Scholarship awards $5,000 to a student and $2,500 in Rose Brand credit to the student's school to help enhance the theatre program. The scholarship is intended for students who wish to pursue a career in scenic design, theatre technical direction, or scenic art. The winner of the scholarship was announced this year at the USITT Annual Conference.
Fantasee Lighting's Techfest Returns
Fantasee Lighting will host Techfest 2012 11 a.m. to 7 p.m on Thursday, April 26 and Friday, April 27 in Michigan.
The Sixth Annual Lighting, Rigging and Special Effects Tradeshow is free.
Products and services showcased will target the special events, entertainment, and corporate markets. Representatives from more than 20 suppliers, manufacturers, and associations will be participating. A partial list includes: TMB, James Thomas Engineering, CM, Leprecon, LEX Products, and AC Lighting.
Educational seminars and console training sessions will be offered on both days, providing hands-on experience with the very latest equipment. The educational seminars and console training sessions are free. Registration is required for console training only. Light refreshments are served and prize drawings take place throughout the event.
In conjunction with TMB, Fantasee Lighting will sponsor a two-day Hippo School, on April 24 and 25. Registration and pricing information will be available soon.
Visit the website for schedule announcements, updates, and more information.