Northern Boundary Sets Fall Workshop
The Northern Boundary Regional Section will hold a fall workshop September 18 and 19. The two-day event will be hosted by the University of Minnesota-Twin Cities. More info about this and other bits of NBS news can be obtained from the May issue of the online newsletter.
To Top

News From Chesapeake
The Chesapeake Regional Section Annual Stage Expo and Conference will be held September 19 at the University of Delaware in Newark.
In addition to the usual host of new technology, classes, networking, professional development workshops, and general great time learning about theatre technologies, John McKernon, of Lightwrite fame, will deliver the keynote address and speak about the latest release of the software. A host of new activities are planned to celebrate the end of the Section's 30 years of existence and to kick off, in true Mid-Atlantic fashion, the upcoming 50th anniversary year of USITT.
Chesapeake Section also announced changes in some of the board positions effective May 22. Kacey Fisher has stepped down from her role as Section Chair to focus her energy and talents on her growing company, Fisher Theatrical, and to continue her expanding work with ESTA and its GenESTA programming. She will stay on with the Chesapeake Board for a few more years in the position of Immediate Past Chair. Patrick Wallace, former First Vice-Chair, has taken on the Chair duties. He has been on the Section board for three years.The First Vice-Chair opening has been filled by Christina Smith of Shepherd University and Contemporary American Theater Festival. She has been part of the Section's Publications Committee for the past two years and serves on its' 2009 Conference Committee. Bill Price, who has been serving as Immediate Past Chair, is retiring from the Board to continue his expanding work with ESTA and its training programs.
To Top

Southeast Master Classes in September
The Southeast Regional Section's Fall Master Classes will be hosted by the University of North Carolina at Greensboro September 3 to 5. Check the USITT-Southeast website or contact Chip Haas at cehaas@uncg.edu for more information.
To Top

HOA Plans Mini-Expo, Workshops
Heart of America Regional Section is soliciting recollections of the early days of the Heart of America section for the history timeline for USITT's 50th anniversary celebration in Kansas City, Missouri. Submit recollections via the Section website.
Also reserve September 11 to 13 for a Fall Mini Expo and Workshops at University of Kansas in Lawrence, Kansas. Use the website for submitting additional workshop ideas.
To Top

TechXperience Slated in Oklahoma City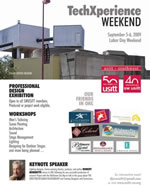 USITT-SW will be holding its Fall 2009 Labor Day Symposium in Oklahoma City this September 5 and 6. The title is TechXperience Weekend. Events will be held at the Stage Center Theatre in the Arts District of downtown Oklahoma City, and at Oklahoma City University. Workshops include: Men's Tailoring with Kristina Hanssen and George Curry; Scene Painting with Jenny Knott and Heidi Hoffer; Theatre Architecture tours with Jack Hagler; Moving Lights & Ion Demos with Eric Marsh; Color Theory and Design by Joe Tawil; Designing for Outdoor Theatre and more. The keynote speaker will be Robert Benedetti, Lighting Designer, Emmy-award winning director, producer, and author; his address will be about the director/designer relationship. There will also be a professional design exhibition that is open to all USITT-SW members.
To Top

USITT-SW Turning 40
As USITT celebrates its 50th anniversary, USITT-SW will be turning 40 years old. The Southwest Section is kicking off its' 40th year with two days of workshops and seminars in Oklahoma City. During the symposium there will also be opportunities to see three local productions: Death of a Salesman at the Pollard Theatre, Twelfth Night at Oklahoma Shakespeare in the Park, and Compleat Female at the Stage Center. Registration is $5 for students and $20 for members. For more information, check out www.usitt-sw.org.
To Top