The Southwest Regional Section's Winter Symposium was held at Midwestern State in Wichita Falls, Texas. Thanks to Elizabeth Lewandowski, Don (Cap) Henschel, and all of the students who worked so hard to make it a success. Dr. Friederike Wiedemann, provost, provided astute and encouraging opening remarks, and Rafael Jaen was adjudicator and keynote speaker.

The theme was "Collaboration" and students and professionals spent nearly eight hours working in teams to come up with a concept and collage for Ionesco's Chairs. Kasey Allee-Foreman organized and oversaw the workshop.
Sponsors and supporters of the symposium were: Schuler Shook Consultants, Fisher Technical Services, Meyer Sound Labs, VariLite/Phillips, CAST –Soft WYSIWYG, IATSE Local 51, Le Maitre Special Effects, GAM Products, Rosco, Lee filters, Production Resource Group-Dallas, Stagelight Inc., Lighting and Sound America, Norcostco, The Painters Journal, Texas Scenic, and Stagecraft Institute of Las Vegas.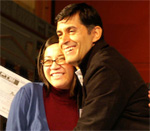 Rafael Jaen congratulates Bich Do
Winners of awards were: Costume Design, Haley Moore, first, Nara Lessor, second; Costume Technology, Abby Barker, first; Lighting Design, Fred Allen Self, first, Brandt Gentry, second; Scenic Design, Nathan Stanaland, first, Jeff Lindquist, second; Sound Design, Jay D. Johns, first, Megan Skinner, second; Stage Management, Faith Looten, first, Jordan Andrews, second; and Scenic Crafts/Technology, Michael Weiss, first, Da'Rel Johnson, second, and Brittany Lanni, third.
Bich Do received the Annual Schuler Shook Award for overall presentation and the Special Section President's Award.
To Top