Savoie to Receive
Rising Star Award
Sean Savoie, a very talented young lighting and scenic designer, will receive the 2009 Rising Star Award sponsored by LDI2009 and Live Design Magazine at the USITT Annual Conference and Stage Expo in Cincinnati, Ohio.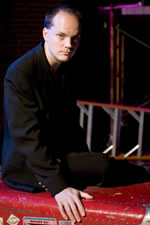 His current work as a lighting designer for dance and theatre productions has been described as "positively remarkable: subtle, daring, technically impeccable, innovative, and captivating" by Robert Henke, chair of the performing arts department and professor of drama and comparative literature at Washington University.
His nominator and friend, Andrew Hungerford, says this about Mr. Savoie: "He's the kind of designer with whom people love to collaborate. He's friendly and easygoing even when time and money are tight. He always brings innovative ideas to the table. And he has an attention to detail that means the work will always be the best it possibly can, even in low budget or tiny spaces."
David Johnson, associate publisher and editorial director of Live Design, notes, "We are extremely pleased that Mr. Savoie is this year's winner of the USITT Rising Star Award. He comes highly recommended and is definitely a young designer to watch. And in keeping with the strong lighting component of this year's USITT conference, with the tribute to Jules Fisher, it seems fitting that this year's Rising Star is a young lighting designer."
The Rising Star award recognizes excellence and artistic achievement in the areas of scenic, lighting, sound, and projection design, or the convergence of these design disciplines. This is the fifth year for the Rising Star Award which is given at the beginning of a career to a young designer in the first four years of professional (non-academic) work, following the completion of their highest degree.
Mr. Savoie joins past award winners: scenic designer Kelly Hanson (2005); scenic, lighting, and sound designer Justin Townsend (2006); lighting designer John Horan (2007); and sound designer Elisheba Ittoop (2008).
Mr. Savoie currently serves as resident lighting designer and production manager at Washington University, as well as production manager for the St. Louis Muny. He received his MFA in lighting design and technology from the University of Cincinnati - College Conservatory of Music. His background includes architectural lighting and design firms King Lighting, Inc., in Covington, Kentucky and Visions in Light of Cincinnati.
Adjudicators for the Rising Star Award included Elaine Williams of Bucknell University; Rich Dunham of the University of Georgia, and Bill Brewer, of the University of North Carolina School of the Arts.
To Top