In Memoriam – Ursula Belden
Ursula Belden, scenic designer, teacher, and long-time USITT member, died on January 14, 2009.
Ms. Belden's scenic designs were produced on Broadway, Off Broadway, in regional theatres from coast to coast, in Europe, and in Canada. Her Broadway credits included Quilters, Waitin' in the Wings, and associate design for Amadeaus, adapted from the London production. Off Broadway, she designed more than two dozen new plays, numerous American and/or New York premieres, and many classics, including the award-winning revival of Strindberg's A Dream Play.
Her extensive regional theatre credits, (over 150 designs) included productions for the Mark Taper Forum, Pasadena Playhouse, Kennedy Center, Cleveland Playhouse, Denver Center, Walnut Street Theatre, Cincinnati Playhouse, Pittsburgh Public Theatre, Folger Shakespeare Theatre, Indiana Repertory Theater, and GeVa. Recent international credits included productions at the Volksbuehne in Berlin and the Citadel Theatre in Canada.
A recipient of numerous New York and national awards, her work was regularly selected for inclusion in the USITT PQ USA exhibits in Prague. Conversations with My Father, for the Cleveland Playhouse was represented at PQ 1999. The Dybbuk, produced by Syracuse Stage, appeared in the PQ 2003 exhibit, and Theatre for the New City's Finding Claire was chosen for the USITT PQ USA in 2007.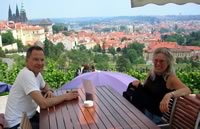 A graduate of Yale School of Drama and member of USA 829, Ms. Belden was a Distinguished Professor of Scene Design and Head of Production Design and Technology at Ohio University. She served as a guest professor at London's Central St. Martin's School of Art and Design, and conducted workshops in Berlin, Bali, Katmandu, Prague, and Hong Kong, where she worked as a Fulbright Senior Specialist. The excellence of her teaching was twice recognized by awards to her students from the Tobin Theatre Arts Fund, for the trunk of assembled designs submitted for the PQ 2003 Student Exhibit, and for an individual student, Eric Beeck, for his scene design of Marat Sade in the PQ 2007 Student Exhibit.
Ms. Belden's participation in USITT activities demonstrated her tireless dedication to the Institute. She co-designed the National Exhibit for PQ 2003, as well as served as a part of the curatorial team. Through her recruiting efforts, she was able to increase the participation of New York-based designers and add several dynamic productions to the display. She also designed the structure for the World Stage Design Exhibit in Toronto in 2005 and continued as a member of the PQ team in 2007 by designing the Student Exhibit. Her countless hours of volunteerism and determination deeply enriched all three of these events and provided a strong public face for USITT exhibitions.
In addition, Ursula served as the alternate representative to the OISTAT Scenography Commission for several years and was recently appointed as the official representative. Her spirit of internationalism represented us well throughout the globe, and she was an outstanding member of the theatre design community worldwide.
Her colleague at Ohio University, Holly Cole, remembered Ursula with these words. "She wanted us to be great. She wanted us to care about the world and make it better. She believed passionately in the power art has to change the world – to change the way we look at each other, the way we understand events. She was an activist-artist and a committed mentor to her students. She opened up the world for her students here and abroad by sharing her contacts, carving out new opportunities, and taking them with her as she designed. She opened doors for them and got them working on Broadway, in London, in Hong Kong, in Germany, and in regional theatres across this country.

Ms. Belden and the PQ 2007 team.
"To her fellow faculty she was our artistic leader. Her focus was on the bigger goals, the larger vision of what we needed to do for our students, our audience, and ourselves as artists. Her passion for theatre was boundless and challenging. She demanded that the work be meaningful, that it be true to a larger vision of life and its meanings."
An exhibit of Ms. Belden's scenic designs will be on display at Stage Expo and those who knew her are invited to a tribute to be held between 4:30-6:00 p.m. on Thursday, March 19 in Room 251 of the Duke Energy Convention Center. For an additional tribute to Ms. Belden, please visit the Ohio University webpage at http://www.ohio.edu/outlook/08-09/January/277.cfm.
To Top