Tech Olympics Strong in Midwest
Tech Olympics continues to flourish in the Midwest Regional Section with the addition of the Tech Olympics at the Michigan High School Theatre Festival. High school students have competed in a Tech Olympics at the Wisconsin, Illinois, and Michigan High School Theatre Festivals. In March there will be one at the Indiana Thespian Conference. This past January, the Kennedy Center American College Theatre Festival, Region III, held its Tech Olympics for college students as well.
The Michigan High School Theatre festival took place at Michigan State University in early December. The event was completely sponsored by Western Michigan University which organized all the events. This was the first time Tech Olympics was offered at the festival. Nonetheless, a full array of competitions were held: Hang & Focus, Knot Tying, Sound Setup, Prop Shift, Costume Change/Sew a Button (all in one), and Create a Cut List.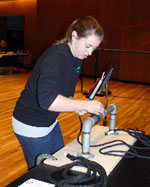 This year La Crosse hosted the 10th year of the event at the Wisconsin HSTF. Eight schools were represented with approximately 59 students competing in Hang & Focus, Prop Shift, Knot Tying, Sound Setup and Fold a Drop events. This year the Sew a Button event was included for the first time. Sponsors included Mainstage Theatrical Supply, Acme Productions, Inc., Michigan Tech, and ETC.
In its seventh year in Illinois, Tech Olympics continues to have widespread enthusiasm. This year's Olympics saw over 50 students from nine high schools around the state participating. Judging was done by members of the Midwest Regional Section and high school teachers along with theatrical companies/dealers, many of whom provided "swag" as well. They were: Broadway Costumes, Chicago Spotlight, Inc., Designlab Chicago, ETC Lighting, Grand Stage Co., Hall Associates Flying Effects, and Intelligent Lighting Creations.
The KC/ACTF Region III Tech Olympics had 18 teams of two students each from 10 colleges and universities throughout the Midwest. A special thank you to Jim Ream who handled the Olympics. Everyone had fun!
The board of the Midwest Regional Section sees these Tech Olympics as a great method of recruiting students and teachers and making them aware of the existence of the Institute and the Midwest Section. We would like to thank everyone again who helps in the organization and running of the various Tech Olympics, but especially ETC for providing fixtures as prizes, the Midwest Section for the shirts, and the USITT Office for the great swag.
To Top