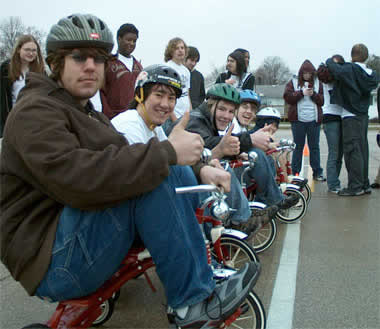 The Mt. Vernon Senior High School Chapter of USITT held its second annual "Short Reach Short Riders" tricycle ride for Behind the Scenes on March 15. From relays, to sprints to the Enduro (6/10 of a mile endurance ride), the Indiana high school riders had a great time even though the temperature never rose above 45 degrees and it started to rain just as the first race began.
Winners of this year's races were: Team Sapsis (Relay), Elliot Kress (Sprint), and Peter Jackson (Enduro).
Sponsors for the 2008 ride were: Kim Craigie, the MVHS Chapter of FFA, Barbara E.R. Lucas, Reid Neslage, Lori Rubinstein and John McGraw, Bill Sapsis, the MVHS Chapter of USITT, Vincent Lighting, and Rich and Becky Wolpert. Each rider also sought out individual local sponsors helping to bring the fundraising total to just over $2,200.
A web video of the ride can be seen at www.srsr.zoomshare.com.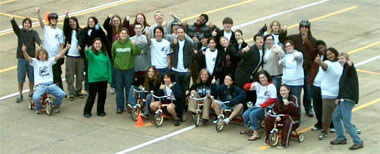 To Top