With more than 500 guesses submitted, finding the number of crackers (the kind that goes best with Cincinnati chili) in a box and jar proved to be very popular at Stage Expo in Houston. Kathie Brookfield, Cincinnati Promotions Coordinator, announced the prize winners.
The "official" jar contained 688 crackers, and Stephanie Shaw won the Grand Prize -- she was only off by one cracker. Eric Stehl was second with a guess of 675, and Jack Feivou was third, also guessing 677. There were 318 participants in the contest.
In the cracker box, with its 494 crackers, Zack Elms was first, guessing seven crackers over; Brittany Mullenany was second with 482, and Jean Burch was third at 480. There were 208 guessers.
The following people volunteered to help at the Promotions Booth at the Stage Expo in Houston: James Hill, Elynmarie Kazle, Stephanie Riddle, Ben Chai, Meg Haven, Scott Hoskins, James Lees, Brian Farkas, and Gion DeFrancesco.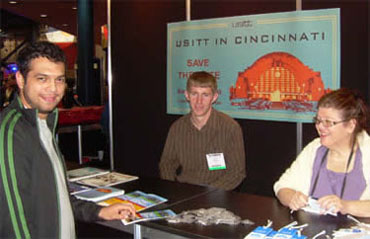 Scott Hoskins, center, and Kathie Brookfield, right, help promote the 2009 USITT Conference & Stage Expo which will be held in Cincinnati.
Photo/James Hill
To Top