The Sapsis Rigging, Inc. Focus Track System met with an enthusiastic reception during the winter Market Week fashion shows in New York City. The track systems were

installed on the runway trusses in the tents at Bryant Park and at the 26th Street Armory. For the Marc Jacob show at the Armory, each track was over 135 feet long.
For more than 15 years, Sapsis Rigging has provided rigging equipment and labor for the Market Week fashion shows.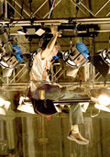 This year's winter events were the largest in memory with over 10 venues spread out across Manhattan including the uptown and downtown Armories, the tents in Bryant Park, and a gym in Hunter College.
The equipment included more than a half mile of lighting truss, over 200 chain hoists, and over 500 feet of Focus Track.
Over 2,000 crew hours were put into the events which began loading in on January 28 and finished striking on February 10.
To Top