Thomas A. Beagle
Thomas Arthur Beagle passed away on July 22, 2006 at the age of 74.
Mr. Beagle was a secondary school theatre teacher in Antioch, California. He joined USITT in 1960 and served as its Education Commissioner in the late 1970s and early 1980s. He also served a term as Vice-President for Liaison and Relations, taking over that position on an interim appointment to fill the term of James R. Earle, when Mr. Earle became President-Elect in 1983.
Mr. Beagle was also an active member of the American Educational Theatre Association (which subsequently became the American Theatre Association) and its subordinate Secondary School Theatre Association. He was also a member of the International Thespian Society.
An active advocate of what he termed design-driven education in theatre technology, Mr. Beagle promoted that idea through his work in USITT, Secondary School Theatre Association, and International Thespians Association.
He promoted a number of cooperative ventures between USITT and the other organizations in which he was active, to foster the development and advancement of standards for secondary school training in theatre design and technology.
Mr. Beagle taught at Antioch High School, was active in his local church, and was an avid participant in the Franklin Motor Club.
Mr. Beagle is survived by his wife, Genevieve, to whom he had been married for 24 years; a sister, Lenna (Dean) Hatch; nephews, Marck and Vance; and nieces, Carmen and Lannette.
To Top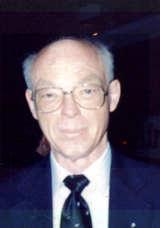 Tom Beagle is shown at the 1992 Conference & Stage Expo in Seattle, Washington.

Photo/John L. Bracewell