Awards Made 2007 Special
Zelma H. Weisfeld
Joel E. Rubin Founders Award
Remarks by Past President Richard Devin
The USITT Joel E. Rubin Founder's Award is presented to a member who has a long history of exemplary volunteer work with this organization. It is the only award that is kept a secret from the recipient until it is announced here (at the Annual Conference Keynote).
I am delighted to present the 2007 USITT Founder's Award to Zelma H. Weisfeld.
A graduate of Temple University and the Yale School of Drama as a costume designer, Zelma taught and designed at the University of Michigan for over 30 years. Since her retirement from teaching in 1991, Zee has continued to serve USITT in numerous projects.
She has served three three-year terms as a Director at Large; has been an active contributor to the Costume Design & Technology Commission; the Publications Committee; and the Human Issues Caucus; was the USITT Liaison to the Costume Society of Great Britain and this year she chaired the USITT Fellows election committee.
Possibly Zelma's longest-lasting influence will be her creation in 1997 of the Zelma H. Weisfeld Costume Design & Technology Award, given annually to an outstanding young professional.
The citation reads:
In recognition of your continuous and dedicated service to the organization and membership of the United States Institute of Theatre Technology. Your indomitable spirit and generous contributions of expertise, time, energy, and treasure through countless years as a Director at Large, and active Fellow of the Institute, volunteer, and supporter of young artists are deeply appreciated by your USITT colleagues and friends.
Special Citation
Utah Shakespearean Festival
USITT recognized the Utah Shakespearean Festive with a Special Citation for its continued presentation of high quality repertory theatre in the Southwest.
Utah Shakespearean Festival, a Tony Award-winning theatre company, is beginning its 46th season this summer. In presenting the award as part of the USITT Keynote, Past President William Byrnes noted that USF has made a significant impact on the careers and lives of many USITT members. When those who had worked for or worked with the company were asked to stand, people in every corner of the Orpheaum Theatre made their way to their feet.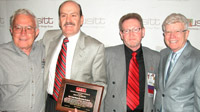 USF provides more than 250 jobs to design and production professionals and students in its summer and fall seasons. The Festival employs designers, painters, technicians, stage and production managers, artisans and craftspeople in all aspects of production each season. Since its founding by Fred C. Adams in 1961, USF has continued to offer USITT members opportunities to grow and develop their skills and abilities in friendly and beautiful location on the Southern Utah University campus in Cedar City, Utah.
Cedar City has also hosted two recent Costume Design Symposiums, drawing raves from those who attended.
Although founded in 1961, USF and presented its first season in 1962 Mr. Adams was new to the College of Southern Utah (now Southern Utah University) in 1959, but he saw the more than 150,000 summer tourists to the area as a great potential audience for a theatre festival. That idea has grown into a company which itself now draws almost 150,000 visitors. R. Scott Phillips was named Festival director in January 2006, succeeding Mr. Adams, who is now executive producer emeritus and executive director of the Festival Centre Project.
Jerry Gorrell
International Health & Safety Award
Jerry Gorrell, long a stalwart of USITT's Standards Committee and currently its chair, is a long-time supporter of the Institute who has dedicated his life to the theatre.
The nomination, which was put forward by the Desert State section noted "Jerry Gorrell's resume reads like a good novel; long but fulfilling." Mr. Gorrell received his bachelor's degree from the Goodman School of Drama in technical production. He taught lighting design at Columbia College and Kennedy King Junior College in Chicago and designed lighting at the Dunes Summer Theatre. He returned to the Goodman Memorial Theatre and School of Drama as a lighting designer, electronics engineer, and studio theatre technical director.
Mr. Gorrell moved to the southwest and began work for the City of Phoenix, Arizona first as production supervisor and then technical director in the City's Venue Management Division. During that time, he began educating others in the industry on the importance of health and safe practices.
His technical work continues, and in addition to this work with the USITT Standards Committee, he is a member of the ESTA Technical Standards Committee, the International Society for Fall Protection, an associate member of the International Association of Electrical Inspectors and is affiliated with the American Society of Safety Engineers, the National Fire Protection Association, the Illuminating Engineering Society of North America, the Educational Theatre Association and of course the United Scenic Artists IATSE Local 829.
In addition to writing, Mr. Gorrell has conducted numerous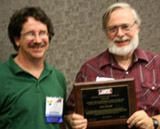 training sessions on theatre safety, safety programs for commercial and educational facilities, rigging safety, electrical safety, and forklift and aerial lift training sessions. He has been a consultant for several school districts on their safety programs, rigging systems, and has conducted safety training for their personnel. He served Fountain Hills, his local district, on the District Facilities Advisory Committee from 1988-1991 and the Arizona Community Center Advisory Commission from 2000-2006. Jerry Gorrell, above, took a moment from a Standards Committee meeting to accept his International Health & Safety Award from Jimmie Byrd.
Although he has retired from the City of Phoenix, Mr. Gorrell continues his work through Theatre Safety Programs, which deals with entertainment industry loss prevention, accident investigation, safety program development, and safety training. At his retirement party, one technician whispered, "If I had to say something about Jerry it would be to yell at him for always making my life harder and then thanking him for making my job safer."
To Top