Author Unknown
For a summer treat, we present this rhyming collection of stage truths, which has been around for several years. The author's name seems to be lost in the mists of time, but we'd be glad to give credit to whoever put this together.
Theatre Logic
In is down, down is front;
Out is up, up is back;
Off is out, on is in;
and of course
Right is left and left is right.
A drop shouldn't
and
A Block and fall does neither.
A prop doesn't
and
A Cove has no water.
Tripping is OK,
A running crew rarely gets anywhere,
A purchase line will buy you nothing;
A trap will not catch anything
and
A gridiron has nothing to do with football.
A strike is work (in fact, a lot of work)
and
A green room, thank God, usually isn't;
Now that you're fully versed in theatrical logic...
"Break a Leg"

To Top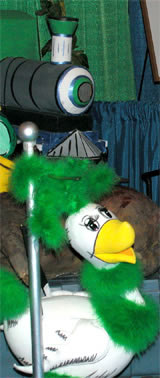 This bit of prop whimsy was found by Casey Kearns at the 2006 Annual Conference & Stage Expo.