Institute, ATL Offer Special
Play Package, Discounts
The 30th anniversary Human Festival of New American Plays will be in full swing at Actors Theatre of Louisville (ATL) during the 2006 USITT Conference & Stage Expo. Those who have attended past Humana Festivals know the excitement of witnessing the intense work that goes on in Louisville every March - work resulting in first-class productions of exceptional new plays. Everyone attending the 2006 USITT conference should try to set aside a little time to enjoy one or more of the eight shows in the Humana Festival.
USITT and ATL have created a special package of three shows on Tuesday, March 28 and Wednesday, March 29 before the conference gets too hectic. ATL has generously added a special Tuesday matinee just to accommodate USITT's schedule. In addition, a limited number of discount seats for the Sunday evening (March 26) show are reserved for USITT members who want to see an extra play.
The three-show package consists of Six Years by Sharr White, Hotel Cassiopeia by Charles L. Mee and Natural Selection by Eric Coble. (The three-show package is available as a Regional Attraction on USITT's Conference registration page.) The Sunday evening performance is The Scene by Theresa Rebeck.
The Scene by Theresa Rebeck (discount tickets available for Sunday, March 26, 7 p.m. through ATL) is performed in ATL's arena space, the Bingham Theatre. ATL's synopsis: "Clea's new to the scene. Lewis wants to make a new scene from the old scene. Charlie was part of the scene and Stella's trying not to make a scene. This biting new black comedy takes on New York, the entertainment industry, marriage and even Ohio. Three old friends hitting middle age have their worlds upended by the new, hot, young thing."
Ms. Rebeck has had considerable success writing for television -- NYPD Blue, L.A. Law, Brooklyn Bridge, Third Watch -- but she says she never stopped writing for theatre. She has, however, stopped writing for television since her recent successes with Omnium Gatherum, co-authored with Alexandra Gersten-Vassilaros, for which they received a 2004 Pulitzer Prize, and Bad Dates, which will be performed at ATL in February, 2006.
Six Years by Sharr White (USITT's Tuesday, March 28, 2:30 p.m. package) is also performed in the Bingham Theatre. ATL's synopsis: "After six silent years, Phil Granger returns home to his wife, Meredith, shattered by all he witnessed in World War II. We return to Phil and Meredith every six years, from the Post-war boom through the quagmire of Vietnam, in this poignant examination of damaged souls in an era of unparalleled change."
Mr. White is an emerging talent who lives in Brooklyn. His other plays include Satellites of the Sun and The Escape Velocity of Savages.
Hotel Cassiopeia by Charles L. Mee (USITT's Tuesday, March 28, 7 p.m. package) will be performed in ATL's 159-seat Victor Jory Theatre. ATL's synopsis: "The American collage artist Joseph Cornell made wooden boxes filled with pocket watches, coiled springs, maps of the stars, a forest of thimbles, parrots, seashells, broken glass, children's alphabet blocks, brightly colored balls, soap bubbles, whales' teeth, a colored lithograph of the moon in the night sky, star fish. How would it be if those boxes could speak? About art, about America, about compassion and longing and loneliness, and heartbreak." This production is performed by the SITI Company.
Mr. Mee is a member of the SITI Company, the acclaimed group of actors and designers headed by artistic director Anne Bogart. Mr. Mee, who has had several other plays produced at Actors Theatre, says of his work, "I like plays that are not too neat, too finished, too presentable. My plays are broken, jagged, filled with sharp edges, filled with things that take sudden turns, careen into each other, smash up, veer off in sickening turns. That feels good to me. It feels like my life. It feels like the world."
Natural Selection by Eric Coble (USITT's Wednesday, March 29, 7 p.m. package) will be performed in ATL's largest space, the modified thrust stage of the Pamela Brown Theatre. ATL's synopsis: "We're in the not-so-distant future where the Culture Fiesta Theme Park needs to restock the natives of the Native American Pavilion, and curator Henry Carson must venture into the wastes of North America to find one. But will his new acquisition make a blip on his wife's blog? And what's up with all this rain?"
Mr. Coble, who was born in Scotland and "bred," he says, on the Navajo and Ute reservations in New Mexico and Colorado, now lives in Cleveland where he is a member of the Cleveland Play House Playwrights Unit. His other plays include In a Grove: Four Japanese Ghost Stories, Nightfall with Edgar Allan Poe, and Pinocchio 3.5.
More information about the special pre-conference package of shows in the 2006 Humana Festival of New American Plays is available on the USITT website. Complete information about the all the performances during the Humana Festival is available on the Actors Theatre website.
To Top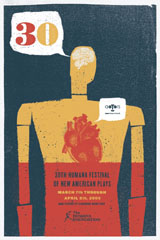 Above is the poster created to help promote the 2006 Humana Festival of New American Plays at Actors' Theatre of Louisville. Those attending USITT's Conference & Stage Expo will have special opportunities to participate in the Humana Festival