Golden Pen Winner Named
A stunning representation of the work of Miodrag Tabacki has been honored with USITT's 2006 Golden Pen Award.
The book, entitled simply Miodrag Tabacki was authored by by Gordana Popović Vasić amd Irina Subotić and published by Clio in Belgrade, making it a challenge to obtain in the United States.
Members of USITT"s Golden Pen committee noted that the work surpassed any others nominated in meeting the criteria for the award. Each year, the committee considers nominated books which are significant in the field of performing arts and are outstanding examples of one or more of the following:
Scholarly research and critical thinking;
Presentation of the work and methodology of exceptional practitioners for theatrical arts and/or crafts;
Description of the methods, skills, and technology involved in creating works of theatre and/or crafts.
Miodrag Tabacki includes essays in both English and Serbo-Croatian, highlighting the relationships in Mr. Tabacki's work.
The book is currently available through the USITT Bookstore, and USITT hopes to have a supply for sale at the USITT Boutique at the Annual Conference & Stage Expo where it will be honored and Mr. Tabacki will sign copies. A session will be held during the conference about Tabacki's designs.
Mr. Tabacki will accept the 2006 Golden Pen on behalf of the authors as part of the Annual Awards Banquet which concludes the Conference.
To Top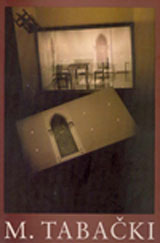 The design monograph of work by Miodrag Tabacki has been named the winner of USITT's 2006 Golden Pen award. The book will be honored as part of the 2006 Annual Conference & Stage Expo.