Discover the Future of
American Theatre
The 2006 USITT Conference & Stage Expo in Louisville, Kentucky, will be easy to get to [see the June Sightlines article] and relatively inexpensive when you compare its hotel rates with those in recent years. However, the real attractions of any USITT conference are the people you meet and the new things you see and learn. In that regard, Louisville is going to be something really special: The Humana Festival of New American Plays will be in full swing at Actors Theatre Louisville during the conference March 29 to April 1.
The Humana Festival has brought to life such award-winning plays as Gin Game by D.L. Coburn, Crimes of the Heart by Beth Henley, Agnes of God by John Pielmeier, Extremities by William Mastrosimone, and Dinner with Friends by Donald Margulies. The awards - Pulitzers, Tonys, Outer Critics, etc. - bestowed on these five plays would fill more than one big mantle. But awards aren't the reason this festival was started nor why it has persisted so long. Jon Jory, producing director of Actors Theatre Louisville from 1969 to 2000, said he started the festival in 1976 because, "We love writers, and new writing, and the rollercoaster ride of the unknown, and being first on our block, and - truth to tell - we don't mind a little attention either."
Playwrights who have taken the "rollercoaster ride" at the Humana Festival's include America's best and brightest, as well as some fascinating newcomers: Joan Ackermann, Lee Blessing, Jimmy Breslin, William F. Buckley Jr., John Conklin, Richard Dresser, Horton Foote, Brian Friel, Athol Fugard, John Guare, Beth Henley, Israel Horovitz, Tina Howe, David Henry Hwang, Naomi Iizuka, Arthur Kopit, Tony Kushner, Joyce Carol Oates, Eduardo Machado, Donald Margulies, Jane Martin, William Mastrosimone, Charles L. Meeh, Marsha Norman, Suzan-Lori Parks, John Pielmeier, John Patrick Shanley, Megan Terry, Naomi Wallace, Douglas Turner Ward, Wendy Wasserstein, and Lanford Wilson.
A love for writers and new plays may have been the spark that ignited the festival, but the fuel that sustains it is its namesake's financial support. Humana Inc., a large, managed health care company with headquarters just blocks from ATL, and its philanthropic arm, the Humana Foundation, have been the primary sponsors of the festival for over 25 years. Humana co-founder David A. Jones said, "Theatre is a way of bringing new ideas to an audience. ATL, through its new play festival, has raised the level of sophistication in our community and beyond."
Anne Bogart, artistic director of The SITI Company and a frequent director at ATL, characterized the Humana Festival experience as "a communal affair." She said, "I don't know any festival that generates as much enthusiasm or loyalty. People fly in from all over the world. It's fun. You hang out in the bar, meet people, see shows, eat, schmooze, and commiserate about the state of American theatre."
Come to Louisville for the 2006 USITT Conference & Stage Expo and plan to see some exciting, provocative, new plays; they are the future of American theatre. Special ticket packages will be available for conference attendees. Details will be announced in subsequent issues of Sightlines.
More "fun facts" and a complete history of the Humana Festival are available on the Actors Theatre web site.
To Top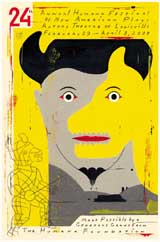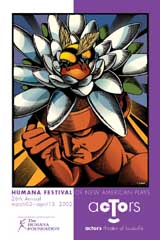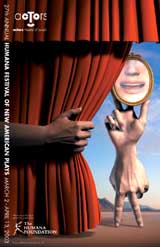 Posters from past Humana Festivals show its diversity.
Images/courtesy Humana Festival.