Thoughts from David Grindle
USITT Executive Director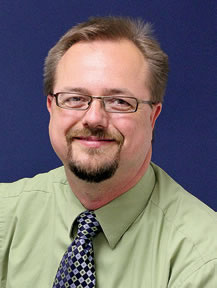 Last month, something rare occurred. I got to attend arts events wholly unrelated to any of the performers or production staff! I saw the Syracuse Stage production of The Curious Incident of the Dog in the Nighttime (co-produced with Indiana Repertory Theatre), and a few days later I attended the Symphoria concert that included the Rachmaninoff Variations on a Theme of Paganini.
So, why share that with you?
It was during the concert of the variations that I drew a parallel between the composition, the play, and the work of USITT members. Curious Incident has as one of its themes, truth. Christopher, the lead character, only tells the truth. During the play, the truths he discovers change his views on the world and the people around him. Things he thought he understood and believed as fact are radically changed when the truth is exposed. He saw the world differently.
The Rachmaninoff theme and variations are similar. In this musical form, one theme is presented by the composer with different views on tempo, ornamentation, and other elements of the music. You hear the theme but it isn't the same. You are forced to look at it in a different light.
That's the work of the people that design and produce shows. There's a truth in the text, the music, and the image. Designers take that truth and, like in the musical form, augment or change it highlighting an aspect or feature to reveal something to the audience. Sometimes it is subtle and makes you think of something else (did you know the carpet pattern in Stanley Kubrick's The Shining was used as a design for the tissue box in Toy Story 3?). Other times, the perspective is visibly skewed or anachronisms are included. In those times, you know that the "truth" of the play is there, but you must search for it.
In both instances, I was drawn into a search for the truth. I was trying to follow the world of Christopher in the play as he found out the truth of the world wasn't what he believed it to be. In the music, I smiled as I finally found how the theme is manipulated in the most famous of the variations. I had to work hard, and it only took more than 20 years of listening to figure it out — slowed tempo and inverted intervals.
In the end, our world reflects the ever-changing world around us. Thank you to the creators of these images and variations. You make our world richer. And yes, there may be people who don't get the subtle variations, but when they do, when they pick up on the color choices, the images, or the sound, then their world has been exposed to the truth of the show once more and they leave able to appreciate it more deeply.