News & Notices
Member Spotlight: Colleen Metzger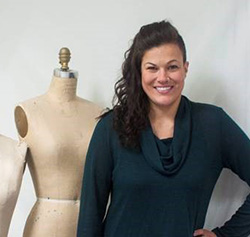 Q&A with Colleen Metzger: costume designer and Assistant Professor at the University of Alaska Anchorage
How did you get into costume design?
I always liked sewing as a kid. I did a lot of sewing and worked at a historical museum where I made my own costumes. When I was in high school and college, I volunteered in the costume shop for fun. I never thought of it as a career necessarily but as a hobby I enjoyed.
I got an internship when I was in college and then another internship and then a job and then another job. Suddenly, 10 years later I said, "I think this is my career." I never thought about it as something people would do for a living since it was a hobby and it was enjoyable, so I'm glad I stumbled into that.
Why did you take the theatrical route for clothing?
I've always enjoyed theatre. I grew up in the Chicago area, and we would go to see plays and musicals while I was growing up. There was something so enticing about theatre, and I wanted to get involved. I was always interested in the history side of things.
In fashion, you're always thinking ahead, but I was very intrigued by getting to re-create history and delve into different time periods. I was a history major as an undergrad, so that was something I had thought about pursuing as a career.
Is there a specific design style that you're drawn to?
Anything that happens around the French Revolution period is one of my favorites. We did the new David Adjmi's Marie Antionette at the University of Alaska Anchorage two years ago, and I worked on Dangerous Liaisons with my thesis when I was in graduate school. That period and the over-the-top nature of it is fun to jump into.
Is there a favorite company that you've worked with?
Part of what I really enjoyed when I started working in theatre was the ability to go to different theatres and meet new people. Everywhere I've gone, I've had a blast and met wonderful people. I would love to go back and work at all those theatres.
I think it's unusual that I've stayed in Anchorage as long as I have because that was something I liked so much about theatre life — freelancing and getting to constantly be immersed in new places and new cultures while meeting new theatre artists.
What got you into the teaching world?
When I went to grad school, I was thinking of teaching as my future saying, "Someday, if I want to settle down, this seems like a really good thing to have on the backburner if I want to live in one place permanently."
I saw the posting for Anchorage when I was just finishing grad school. I was planning to continue freelancing for at least another couple of years. I put the application out there because I was intrigued about living in Anchorage. When I got the job, I wasn't planning on staying up here as long as I have. I've been here six years. I love living in Alaska, I love the people I work with, and the theatre at our university has been phenomenal. It's a great group of people that I get to work with every day. It's small enough where we can take on some unique projects and do what interests us as well as what we think would be good for our students. It's also large enough to where we have the resources to do some over-the-top projects, too.
What has been your biggest challenge as a designer?
I think what is unique about living in Anchorage and being a designer are the interesting struggles. For example, trying to get people to ship things up here. That would be so simple anywhere else in the country. Suddenly, you realize, "Oh, those corsets are stuck on a barge for months; they're not going to be here in time for opening." Or you realize you can't have a certain liquid shipped here because it might freeze in the winter. Something that in any other state wouldn't be an issue.
We try to source things. If you're in New York, you can walk down the street and get anything you want. Up here, it's a lot more limited so you get more creative with what you're putting together and what your resources are. Anytime I leave the state, I'm always dragging up fabric from different places. I even brought up an industrial serger from Chicago a couple of years ago. Putting that on a plane was fun.
How does USITT play a role in your life?
At USITT, it's invigorating as an artist to go and be surrounded by these new ideas and these great people — especially since I moved to Anchorage. Everyone who works up here works in the Alaska theatre scene and they all know each other. It's much harder to network with a national pool of theatre professionals. At USITT, I get to touch base with people who I've collaborated with in the past, make new friends, keep my theatre network up, and keep my fingers on the pulse of what's new in theatre technology and design.
Suggest a USITT Member for the Spotlight!
If you know of USITT members whose work should be in the Spotlight, please feel free to suggest them. Contact Jenn Shuron at jenn@usitt.org.